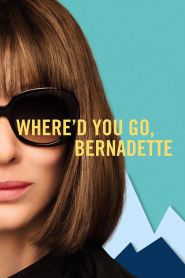 General Information
Glossary: W
Released Year: 2019
Runtime: 103 minutes
Genre: Comedy, Drama, Mystery
Directors: Richard Linklater
Casts: Laurence Fishburne, Judy Greer, Kate Burton, Kristen Wiig, Joe Fishel, Cate Blanchett, Steve Zahn, Kate Easton, Billy Crudup, Lana Young, Richard Robichaux, Megan Mullally, James Urbaniak, Troian Bellisario, Jóhannes Haukur Jóhannesson, Claudia Doumit, Emma Nelson, Zoe Chao, Katelyn Statton, Owen Buckenmaier
IMDB: Where'd You Go, Bernadette (2019)
Sponsored Links
Ratings
User Rating:
IMDB Rating:
6.5
Reviews
Entertainment Weekly

-

Linklater, who brought such subtle, generous feeling to films like Boyhood and the Sunset trilogy, feels somehow miscast as the steward of Bernadette's willful eccentricities.

The New York Times

-

Amusing and sleepy pretty much describe this movie.

TheWrap

-

Those who arrive without any preconceptions — or are willing to stray from the novel's style — will appreciate the assets of a modestly engaging and gently touching dramedy.

IndieWire

-

The more engaging question is where Bernadette disappeared to for the two decades before the movie begins. It may not be much of a mystery, but where Bernadette went is far more believable and broadly real a story than where she ends up. It's a story that's too complicated for Linklater to tell here.

Rolling Stone

-

It's the human devastation that gets short shrift in a movie that turns the hot, hilarious, out-for-blood Bernadette into the thing she hates most: conventional.
Where'd You Go, Bernadette (2019)
When architect-turned-recluse Bernadette Fox goes missing prior to a family trip to Antarctica, her 15-year-old daughter Bee goes on a quest with Bernadette's husband to find her.