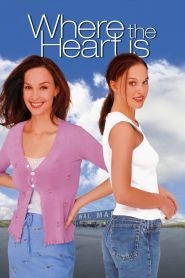 General Information
Glossary: W
Released Year: 2000
Runtime: 120 minutes
Genre: Comedy, Drama, Romance
Directors: Matt Williams
Casts: Rebecca Davis, Sally Field, Keith David, Dylan Bruno, Chris Warner, Joan Cusack, Natalie Portman, James Frain, Russell Towery, Jim Henry, Ashley Judd, Heather Kafka, R.C. Keene, T.J. McFarland, Rodger Boyce, Kinna McInroe, Linda Wakeman, Gabriel Folse, J.D. Evermore, Ray Prewitt, David Alvarado, Bobby Shue, Cheyenne Rushing, Stockard Channing, Cody Linley, Trevor Doyle Nelson, John Swasey, Angee Hughes, Todd Lowe, Richard Jones, Mary Ashleigh Green, Deborah Abbott, Angelina Fiordellisi, Dennis Letts, Dan Eggleston, Scarlett McAlister, Laura House, Mark Voges, Margaret Hoard, Sue McCormick, Karey Green, Laura Auldridge, Alicia Godwin, Kathryn Esquivel, Mark Mathis, Mackenzie Fitzgerald, Nataly Peña, Yvette Diaz, Richard Nance, Tony Mann, Kylie Harmon, Bob Coonrod, Alecia Batson, Stacy Bellew, Jeff Cooper, Lisa Del Dotto, Jeremy Denzlinger, Adrian Garza, Molly Howe, K. Todd Lytle, Erica Mincks, Cassandra L. Small, Gena West, Jerry Wu, Jason C. Young
IMDB: Where the Heart Is (2000)
Sponsored Links
Ratings
User Rating:
IMDB Rating:
6.8
Reviews
Seattle Post-Intelligencer

-

In no way is this a serious movie. Still, it's hard to resist.

Chicago Tribune

-

Never really feels right.

New York Post

-

Hard-core chick shlock, weakened by odd shifts in tone and a slack pace, but elevated by a luminous performance by Natalie Portman.

Film.com

-

Serves up the usual homilies, but it lacks the quirky density and cinematic snap.

TNT RoughCut

-

Worthwhile performances (including cameos from Joan Cusack and Sally Field) and one-liners, but don't leave your home looking for Heart.
Where the Heart Is (2000)
Novalee Nation is a 17-year-old Tennessee transient who has to grow up in a hurry when she's left pregnant and abandoned by her boyfriend on a roadside in Sequoyah, Okla., and takes refuge in the friendly aisles of Wal-Mart. In short order, some eccentric, kindly strangers "adopt" Novalee and her infant daughter, helping them buck the odds and build a new life.