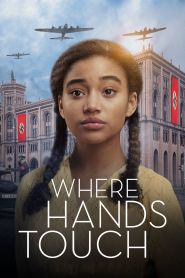 General Information
Glossary: W
Released Year: 2018
Runtime: 122 minutes
Genre: Drama, Romance, War
Directors: Amma Asante, Amma Asante
Casts: Alec Newman, Amandla Stenberg, Christopher Eccleston, Abbie Cornish, George MacKay, Tom Goodman-Hill, Will Attenborough
IMDB: Where Hands Touch (2018)
Sponsored Links
Ratings
User Rating:
IMDB Rating:
5.5
Reviews
Observer

-

A tale of trauma and survival, Where Hands Touch is grim, compelling stuff, but the tireless humanism of the two leading characters makes it undeniably moving, aided by the careful and empathetic guidance of British writer-director Amma Asante (Belle, A United Kingdom).

The Hollywood Reporter

-

Throughout, Asante raises questions about bravery, conscience and, most of all, identity.

The Film Stage

-

Despite moments that risk subverting the vile treachery of Nazis in a bid to humanize this would-be soldier underneath his uniform, Asante refuses to erase the complexity of the situation at hand.

TheWrap

-

The weight of history is a heavy burden for one film to carry, especially when freighted still further by contemporary parallels. Ultimately, Leyna is as much a symbol as a fully-drawn character, one young girl representing multitudes. Nevertheless, those who find their way to her essential story will come away not only enlightened, but undeniably touched.

Screen International

-

One of the issues with Where Hands Touch is that whilst some of the details and specifics feel fresh, the drama often feels desperately hackneyed.
Where Hands Touch (2018)
Germany, 1944. Leyna, the 15-year old daughter of a white German mother and a black African father, meets Lutz, a compassionate member of the Hitler Youth whose father is a prominent Nazi soldier, and they form an unlikely connection in this quickly changing world.