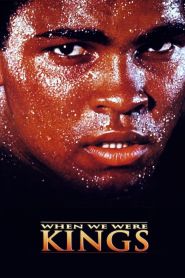 General Information
Glossary: W
Released Year: 1996
Runtime: 89 minutes
Genre: Documentary
Directors: Leon Gast
Writers: Leon Gast
Casts: George Foreman, Spike Lee, Don King, Malick Bowens, James Brown, George Plimpton, Muhammad Ali, Joe Frazier, B.B. King, Miriam Makeba, Drew Bundini Brown, Norman Mailer, Howard Cosell, Mobutu Sese Seko, Thomas Hauser, Lloyd Price, The Spinners, Odessa Clay, Wilton Felder, Wayne Henderson, Stix Hooper, Stewart Levin, Alan Pariser, Danny 'Big Black' Rey, Dick Sadler, Joe Sample, Philippé Wynne, Archie Moore, Lola Love, Sonny Liston, Jersey Joe Walcott
IMDB: When We Were Kings (1996)
Sponsored Links
Ratings
User Rating:
IMDB Rating:
8.0
Reviews
San Francisco Chronicle

-

On a deeper level -- and this is where When We Were Kings exceeds its expectations and becomes a great film -- Gast examines African American pride.

Chicago Reader

-

Gast does a nice job of building the suspense leading up to the fight, fleshing out the story with some good color commentary by a handful of people (filmed by director Taylor Hackford, who wisely convinced Gast that these reminiscences and remarks would fill in some historical gaps).

Film Threat

-

The seemingly total access and seemingly total coverage the film makers enjoy makes us forget at times that this isn't some Hollywood fabrication.

The New York Times

-

Mr. Gast skillfully blends photographs, celebrity interviews with Norman Mailer and others, and colorful forays into the Zairian countryside, where Ali fostered black brotherhood and became a huge favorite, in a film that ''gazes well beyond the ring and seeks engagement with history''.

Washington Post

-

For those who want to relive Ali's glory days, and for those who think Ali was nothing but a prizefighter, this movie, which took the struggling Gast 20 years to get financed, is required viewing.
When We Were Kings (1996)
It's 1974. Muhammad Ali is 32 and thought by many to be past his prime. George Foreman is ten years younger and the heavyweight champion of the world. Promoter Don King wants to make a name for himself and offers both fighters five million dollars apiece to fight one another, and when they accept, King has only to come up with the money. He finds a willing backer in Mobutu Sese Suko, the dictator of Zaire, and the "Rumble in the Jungle" is set, including a musical festival featuring some of America's top black performers, like James Brown and B.B. King.