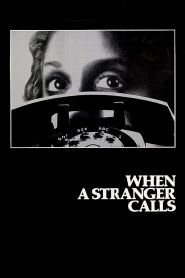 General Information
Glossary: W
Released Year: 1979
Runtime: 97 minutes
Genre: Crime, Drama, Horror, Mystery, Thriller
Directors: Fred Walton
Writers: Steve Feke, Fred Walton
Casts: Carmen Argenziano, Charles Durning, Carol Kane, Michael Champion, Tony Beckley, Rutanya Alda, Colleen Dewhurst, Arell Blanton, Rachel Roberts, William Boyett, Ron O'Neal, Kirsten Larkin, Heetu
IMDB: When a Stranger Calls (1979)
Sponsored Links
Ratings
User Rating:
IMDB Rating:
6.5
Reviews
The Globe and Mail (Toronto)

-

When a Stranger Calls manages to scare the stuffing out of the audience - the film is authentically terrifying - without pouring more than a demi-carafe of gore. [22 Oct 1979]

Variety

-

More than anything else, When a Stranger Calls resembles a good, old-fashioned grade B thriller.

The New York Times

-

The gimmick behind When a Stranger Galls is a scary one, but it's been played for more than it's worth.

TV Guide Magazine

-

The first part of this film is an exceedingly taut little chiller that stands on its own, and in fact was once a short film entitled The Sitter. Director Fred Walton decided to expand the clever premise into a feature and, unfortunately, that is where the film begins to fall apart.

Washington Post

-

Director Fred Walton sets the audience up early for a 20-minute reign of terror and gracefully shocks them out of their seats in a final blitz. But he packs the middle with drawn-out dialogue and mindless series of chases and escapes that do little more tan pad the feature film into feature length. [19 Oct 1979, p.31]
When a Stranger Calls (1979)
A psychopathic killer terrorizes a babysitter, then returns seven years later to menace her again.