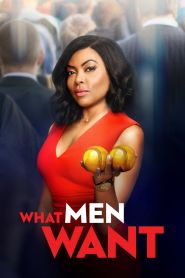 General Information
Glossary: W
Released Year: 2019
Runtime: 117 minutes
Genre: Comedy, Fantasy, Romance
Directors: Adam Shankman
Casts: Kellan Lutz, Aldis Hodge, Jason Jones, Wendi McLendon-Covey, Tracy Morgan, Taraji P. Henson, Shaquille O'Neal, Tamala Jones, Brian Bosworth, Mark Cuban, Richard Roundtree, Paul Brian Johnson, Josh Brener, Max Greenfield, Pete Davidson, Erykah Badu, David Dunston, Chris Witaske, Phoebe Robinson, Lisa Leslie, Kristen Ledlow, Mathias Alvarez, Shane Paul McGhie, Roshawn Franklin, Grant Hill, Mystie Smith, Marcus Lewis
IMDB: What Men Want (2019)
Sponsored Links
Ratings
User Rating:
IMDB Rating:
4.6
Reviews
Chicago Tribune

-

The story is a lot harder on its female protagonist than the 2000 film was on its male equivalent. This makes a depressing amount of sense, given what women are up against in most workplaces. Henson's Ali plays both the dramatic encounters and the slapstick opportunities for higher stakes than Gibson ever did.

San Francisco Chronicle

-

An unexpected pleasure that's heartfelt at times and humorous throughout. Yes, the plot is ridiculous and often coarse. Yes, the story is predictable. Yes, a condom stuck to a women's jacket is played for laughs. But it's a very steep uphill climb from there.

The Seattle Times

-

What we have here is mostly a straight-up, mildly raunchy rom-com, where everyone learns lessons and gets a happy ending. But Shankman gives it all an agreeable bounce, and Henson (better known for dramatic roles, in "Hidden Figures," "The Curious Case of Benjamin Button" and TV's "Empire") zestfully dives into the comedy.

TheWrap

-

What Men Want" obviously doesn't reinvent the wheel, and its biggest laughs are in the trailers, but it is a fun romp that manages to also confront a real-world issue.

Movie Nation

-

No, it's not on a par with "Bridesmaids" or "Girls' Trip." The sentimental stuff, the piercing insights Ali picks up about men, are instantly forgettable. But Henson plays the hell out of this part, no subtlety allowed.
What Men Want (2019)
Magically able to hear what men are thinking, a sports agent uses her newfound ability to turn the tables on her overbearing male colleagues.