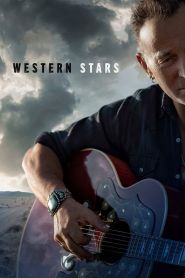 General Information
Glossary: W
Released Year: 2019
Runtime: 83 minutes
Genre: Documentary, Music
Directors: Bruce Springsteen, Thom Zimny
Casts: Bruce Springsteen, Patti Scialfa
IMDB: Western Stars (2019)
Sponsored Links
Ratings
User Rating:
IMDB Rating:
7.5
Reviews
The Playlist

-

What Western Stars best achieves, a universal notion that will hook fans and non-fans alike, is the shared sense of community displayed in the infectious love shown for playing vital and moving music.

The Hollywood Reporter

-

A gorgeous tone poem that both deepens and personalizes the audio recording, creating a satisfying emotional arc that isn't as apparent in the collection of 13 fully-orchestrated country-tinged songs.

TheWrap

-

Western Stars goes far deeper than the usual performance document, to sensitively explore what he sees as the state of his, and our, lives. It's a ruminative, almost elegiac look at Springsteen's life and career, filled with moments of uncommon beauty that makes it of a piece with this latest, most introspective phase of his career.

Uproxx

-

Don't go into Western Stars expecting to see The Boss. That guy is on a break. What we get instead is Bruce Springsteen, a human being who seems a lot less sure of himself than The Boss ever did. Springsteen's book gave us some details, but Western Stars looks straight into his soul.

Variety

-

Western Stars isn't a rockin'-out extravaganza; it's intimate in its embrace. Yet it's a moving testament to how much Bruce Springsteen has still got it. It's a concert film you'll want to experience with others, as a ray of light in the dark.
Western Stars (2019)
The incomparable Bruce Springsteen performs his critically acclaimed latest album and muses on life, rock, and the American dream, in this intimate and personal concert film co-directed by Thom Zimny and Springsteen himself.