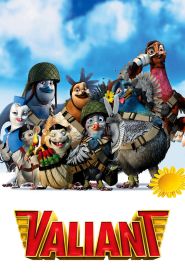 General Information
Glossary: V
Released Year: 2005
Runtime: 76 minutes
Genre: Adventure, Animation, Comedy, Family, War
Directors: Gary Chapman
Writers: Jordan Katz, George Webster, George Melrod
Casts: Jim Broadbent, Pip Torrens, Hugh Laurie, Robert Lence, John Hurt, John Cleese, Olivia Williams, Michael Schlingmann, Sharon Horgan, Ewan McGregor, Tim Curry, Christopher Fairbank, Michael Jenn, Ricky Gervais, Annette Badland, Rik Mayall, Jonathan Ross, Brian Lonsdale, Dan Roberts, Heidi Fecht
IMDB: Valiant (2005)
Sponsored Links
Ratings
User Rating:
IMDB Rating:
5.6
Reviews
Premiere

-

Adults expecting a little bit more, "Chicken Run," this ain't.

Village Voice

-

The main problem with this Disney release--which also wastes the voices of Ricky Gervais and Jim Broadbent--is its refusal to recognize the war as anything but an excuse for tomfoolery.

Entertainment Weekly

-

The CG is on the rubbery side, and the backdrops are jarringly 2-D. But Valiant isn't so hard to look at -- it's hard to listen to.

Washington Post

-

A mite too hard to follow for most of the kiddie crowd who'll want to see it.

The Hollywood Reporter

-

A plucky little bird that just won't fly.
Valiant (2005)
Set in 1944, Valiant is a woodland pigeon who wants to become a great hero someday. When he hears they are hiring recruits for the Royal Homing Pigeon Service, he immediately sets out for London. On the way, he meets a smelly but friendly pigeon named Bugsy, who joins him, mainly to get away from clients he cheated in a game of find-the pebble, and helps him sign up for the war.