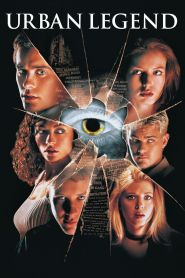 General Information
Glossary: U
Released Year: 1998
Runtime: 99 minutes
Genre: Horror, Mystery
Directors: Jamie Blanks
Casts: Jared Leto, Tara Reid, Brad Dourif, Michael Rosenbaum, Loretta Devine, Danielle Harris, Robert Englund, Joshua Jackson, Julian Richings, John Neville, Shawn Mathieson, Angela Vint, Matt Birman, Balázs Koós, Alicia Witt, Kay Hawtrey, Gord Martineau, Rebecca Gayheart, Natasha Gregson Wagner, Roberta Angelica, J.C. Kenny, Danny Comden, Vince Corazza, Clé Bennett, Stephanie Mills, Nancy McAlear, Danielle Brett
IMDB: Urban Legend (1998)
Sponsored Links
Ratings
User Rating:
IMDB Rating:
5.5
Reviews
The New York Times

-

Maybe there will be an oversaturation of ''Scream''-inspired horror films someday soon, but this one feels fresh.

Chicago Sun-Times

-

The film is competently made, and the attractive cast emotes and screams energetically.

The Globe and Mail (Toronto)

-

Like Frankenstein's monster before the lightning strikes, it's all recycled cold flesh and bolts, without a twitch of originality.

ReelViews

-

With each death, the film becomes less interesting. By the end, it's just a routine slasher flick with a too-predictable final "twist."

San Francisco Chronicle

-

A premise so rock-solid, so guaranteed to please, that it almost doesn't matter that the movie is otherwise a routine slasher, and not a particularly scary one.
Urban Legend (1998)
There's a campus killer on the loose who's making urban legends, like the one about eating pop rocks and soda at the same time will make your stomach explode and the one about a psycho with an axe stepping into the backseat of your car at the gas station when not looking, into reality.