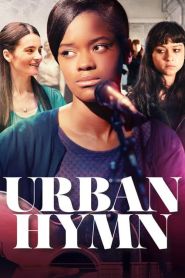 General Information
Glossary: U
Released Year: 2015
Runtime: 114 minutes
Genre: Crime, Drama
Directors: Michael Caton-Jones
Writers: Nick Moorcroft
Casts: Ian Hart, Shirley Henderson, Isabella Laughland, Steven Mackintosh, Letitia Wright, McKell David, Matthew Steer, Billy Bragg, Peter Vollebregt, Shaun Parkes, Robin Berry, Dan Cohen, Caroline O'Neill, Jack McMullen, Jamie Taylor, Athena Droutis, Frankie Oatway, Katie Redford, George Somner, Ellie Carney, Dean Warren, Julian Rivett, Diana Payan, Madeleine Bowyer, Kemal Sylvester, Kirsty J. Curtis, Victoria Alcock, Martin Turner, Mark Flitton, Caroline O'Hara, Charlie Caton-Jones
IMDB: Urban Hymn (2015)
Sponsored Links
Ratings
User Rating:
IMDB Rating:
6.3
Reviews
CineVue

-

Led by a trio of tremendous performances from its female leads, Wright, front and centre as Jamie, is the stand-out.

Total Film

-

It's heavy-handed, but with such fine performances from the youngsters, aided by the ever-reliable Shirley Henderson (as a social worker), that it's hard not to get sucked into this tragic tale.

The New York Times

-

If Urban Hymn starts with that familiar dynamic, it stays surprisingly fresh thanks to three fine performances and a willingness to be uncompromising.

Los Angeles Times

-

Urban Hymn is so carefully and lovingly made by director Michael Caton-Jones and his leads that it's hard to begrudge the British drama its familiar premise, especially as you squint at the screen through tears.

The Guardian

-

A mixed bag, but one that comes good in its closing stretch, working its way towards a place of quiet power.
Urban Hymn (2015)
Set against the backdrop of the 2011 UK summer riots, Jamie, a young female offender who possesses a remarkable voice, meets a determined social worker who inspires her to use it.