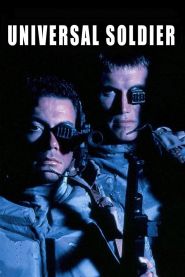 General Information
Glossary: U
Released Year: 1992
Runtime: 102 minutes
Genre: Action, Crime, Sci-Fi, Thriller
Directors: Roland Emmerich
Casts: Thomas Rosales, Jr., Jean-Claude Van Damme, Rance Howard, Tom Lister Jr., Ralf Moeller, Ned Bellamy, George Fisher, Simon Rhee, Lilyan Chauvin, Jerry Orbach, Dolph Lundgren, Leon Rippy, Ed O'Ross, Ally Walker, Tico Wells, Robert Trebor
IMDB: Universal Soldier (1992)
Sponsored Links
Ratings
User Rating:
IMDB Rating:
6.0
Reviews
Washington Post

-

By its own deliriously rock-bottom standards, "Universal" ain't half bad. Of course, you have to be big on bloody slaughter, kickboxing, infrared gunning and impaired acting. But "Universal" executes its subtle-free mission with surprisingly watchable efficiency.

Chicago Sun-Times

-

I suppose there is a market for this sort of thing among bubblebrained adolescents of all ages, but it takes a good chase scene indeed to rouse me from the lethargy induced by dozens and dozens of essentially similar sequences.

San Francisco Chronicle

-

It's the kind of movie that crumbles into trash -- non-recyclable -- if you spend more than 10 minutes thinking about it. It's designed for dumb fun, and delivers some. [10 July 1992, p.D3]

Entertainment Weekly

-

Viewers primed for a postapocalyptic blowout will be disappointed to learn that Universal Soldier is set in the boring old present day, and that until the climactic clash the film is slow-moving and short on firepower.

Austin Chronicle

-

As the robotic duo, Lundgren and Van Damme have found roles tailored to their acting abilities.
Universal Soldier (1992)
An American soldier who had been killed during the Vietnam War is revived 25 years later by the military as a semi-android, UniSols, a high-tech soldier of the future. After the failure of the initiative to erase all the soldier's memories, he begins to experience flashbacks that are forcing him to recall his past.