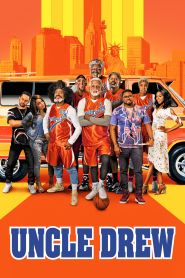 General Information
Glossary: U
Released Year: 2018
Runtime: 103 minutes
Genre: Comedy, Sport
Directors: Charles Stone III
Writers: Jay Longino
Casts: J.B. Smoove, Mike Epps, Nick Kroll, Shaquille O'Neal, Tiffany Haddish, Sal Masekela, Erica Ash, Terence Rosemore, Reggie Miller, Bill Walton, Ashton Tyler, Crystal Lee Brown, William Walker, Dikembe Mutombo, Chris Webber, LilRel Howery, Jamel Chambers, Kyrie Irving, Nate Robinson, Lisa Leslie, Aaron Gordon, John Calipari, Jon Hammond, Scoop Jackson, Pee Wee Kirkland, Earl Monroe, Chris Mullin, George Gervin, Steve Nash, David Robinson, Jerry West, NeNe Leakes
IMDB: Uncle Drew (2018)
Sponsored Links
Ratings
User Rating:
IMDB Rating:
5.7
Reviews
IndieWire

-

Uncle Drew is such a well-acted, warm-hearted basketball comedy that you're liable to forget about its corporate origins.

Original-Cin

-

Uncle Drew is a goodhearted broad comedy, one where you don't have to know the players (under all that latex) to enjoy the game.

Slant Magazine

-

Uncle Drew, the old-school streetballer played by NBA all-star Kyrie Irving, is a cheerfully scruffy creation, and so is the film that bears his name.

The Hollywood Reporter

-

Moviegoers who don't get a kick out of spotting athletes on the screen may be less than enthralled by the otherwise formulaic comeback flick, but sports-loving viewers will likely be more enthusiastic.

TheWrap

-

This journey to cobble together the old squad should be more fun that it is. Although you could say that about most of Uncle Drew. The onus is less on the performances; each former player holds his/her own.
Uncle Drew (2018)
Uncle Drew recruits a squad of older basketball players to return to the court to compete in a tournament.