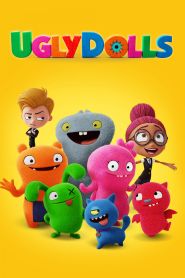 General Information
Glossary: U
Released Year: 2019
Runtime: 87 minutes
Genre: Adventure, Animation, Comedy, Family, Fantasy
Directors: Kelly Asbury
Writers: Blaise Hemingway
Casts: Emma Roberts, Wanda Sykes, Nick Jonas, Leehom Wang, Gabriel Iglesias, Pitbull, Janelle Monáe, Blake Shelton, Charli XCX, Kelly Clarkson, Bebe Rexha, Lizzo
IMDB: UglyDolls (2019)
Sponsored Links
Ratings
User Rating:
IMDB Rating:
4.7
Reviews
Variety

-

UglyDolls is "Trolls Lite," and the way things work I have no doubt we'll be seeing a movie in the next few years that's "UglyDolls Lite." Yet this is still a winsomely appealing and joke-happy bauble for kiddies.

Original-Cin

-

Ultimately, it's a standard formula for a kid's movie (and standard formulas are standard for movies that are also toy ads). UglyDolls isn't particularly inventive or outstanding.

IndieWire

-

The UglyDolls film makes the most obvious choice at every conceivable opportunity, and is all the more tolerable for that.

Chicago Tribune

-

For a film about outlandishly kooky dolls, the film sure is flat, listless and narratively bland.

TheWrap

-

Doubling as both a colorful recycling bin for tropes and ideas from a variety of preexisting children animated features and a casting session for "The Voice"'s next batch of hosts, Kelly Asbury's plush-inspired film UglyDolls is underscored by a well-intentioned message of self-acceptance, even if the delivery vehicle is unremarkable.
UglyDolls (2019)
In the adorably different town of Uglyville, weirdness is celebrated, strangeness is special and beauty is embraced as more than meets the eye. After traveling to the other side of a mountain, Moxy and her UglyDoll friends discover Perfection -- a town where more conventional dolls receive training before entering the real world to find the love of a child.