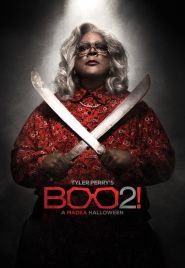 General Information
Glossary: T
Released Year: 2017
Runtime: 103 minutes
Genre: Comedy, Horror
Directors: Tyler Perry
Casts: Tyler Perry, Jermaine Holt, Cassi Davis, Diamond White, Patrice Lovely, Yousef Erakat, Lexy Panterra, Brock O'Hurn, Kian Lawley, Jc Caylen, Mike Tornabene, Inanna Sarkis, Tito Ortiz, Barry Stoltze, Dee Dubois, Kenneth Derise Walker, Aden Stay
IMDB: Tyler Perry's Boo 2! A Madea Halloween (2017) - IMDB
Sponsored Links
Ratings
User Rating:
IMDB Rating:
3.6
Reviews
RogerEbert.com

-

You're going to Madea's house to laugh, forget your troubles and perhaps get a good Christian message. To Perry's credit, he does a far better job of folding that message into the film than usual.

Variety

-

Tyler Perry hasn't generally been in the business of sequels, but apart from Joe's overly salty soul-food patter, this one has a joyless, obligatory, cardboard feeling that marks it as one of Perry's least satisfying films.

TheWrap

-

Imagine an improv class where students sit in clusters, waiting for something funny to be said or to transpire, and you'll have an idea of how this haphazard mess plays out.

The A.V. Club

-

A sequel so wholly anodyne that it doesn't even deserve its exclamation point.

IndieWire

-

Tyler Perry's Boo 2! A Madea Halloween would be tone deaf, lacking in plot, and almost entirely humorless in any year. That is happens to arrive in theaters amid a cascade of sexual assault survivors sharing their stories about sexual assault doesn't help its case.
Tyler Perry's Boo 2! A Madea Halloween (2017)
Madea and the gang encounter monsters, goblins and boogeymen at a haunted campground.