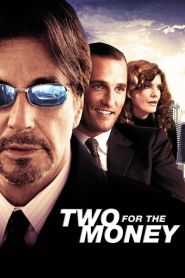 General Information
Glossary: T
Released Year: 2005
Runtime: 122 minutes
Genre: Drama, Sport, Thriller
Directors: D.J. Caruso
Casts: Al Pacino, Jaime King, Kevin Chapman, James Kirk, Jeremy Piven, Gerard Plunkett, Charles Carroll, Rene Russo, Matthew McConaughey, Armand Assante, Ralph Garman, Carly Pope, Gedde Watanabe, Chrislyn Austin, Craig Veroni, Stephen Dimopoulos, Denise Galik, Steve Makaj, Gary Hudson, Jeremy Guilbaut
IMDB: Two for the Money (2005)
Sponsored Links
Ratings
User Rating:
IMDB Rating:
6.2
Reviews
Chicago Sun-Times

-

In D.J. Caruso's Two for the Money, you can see Al Pacino doing something he's done a lot lately: Having a terrific time being an actor.

New York Daily News

-

Too long by about 20 minutes, and takes itself too seriously near the end. But if you're looking for a movie for a boys' night out, it's a winner.

Philadelphia Inquirer

-

It says in the beginning of the film that Two for the Money is "inspired by a true story." Problem is, it's just not that inspired.

Entertainment Weekly

-

Sports betting is a great subject for a movie, but Two for the Money is short on the number-crunching nitty-gritty.

L.A. Weekly

-

Dramatic failings are only exacerbated by D.J. Caruso's direction: He composes every frame as if for television -- despite the fact that the film is shot in widescreen -- and his visual style is about as cinematic as sports talk radio.
Two for the Money (2005)
A former college athlete joins forces with a sports consultant to handicap football games for high-rolling gamblers.