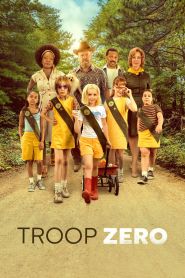 General Information
Glossary: T
Released Year: 2019
Runtime: 94 minutes
Genre: Comedy, Drama
Directors: Bert, Bertie
Writers: Lucy Alibar
Casts: Mike Epps, Allison Janney, Viola Davis, Maureen Brennan, Jim Gaffigan, Edi Patterson, Kenneth Wayne Bradley, Gwendolyn Mulamba, Mckenna Grace, James W. Evermore, Charlie Shotwell, Kai N. Ture, Milan Ray, Johanna Colón, Bella Higginbotham, Ashley Brooke
IMDB: Troop Zero (2019)
Sponsored Links
Ratings
User Rating:
IMDB Rating:
6.9
Reviews
San Francisco Chronicle

-

Gaffigan is able to do a lot with a little, and the comedian is a perfect fit for Ramsey's gentle cluelessness. He's effortlessly charismatic in this kind of role, and the arc of his relationship with Christmas is lovely for all the ways it doesn't fall into easy, empty melodrama.

Chicago Sun-Times

-

Troop Zero is so sugary you'd get a cavity if you bit into it — but it's also a cozy, satisfying and inspirational underdog tale, featuring a wonderful performance by Mckenna Grace.

Los Angeles Times

-

Troop Zero is bursting with personality and stylistic flourishes; it might be too twee for some, but it's better to let yourself be won over by its sincerity and sweetness, tempered by just enough sadness and quirk.

The New York Times

-

What Troop Zero lacks in complexity, it makes up for in heart.

RogerEbert.com

-

If Wes Anderson were to mesh "Bad News Bears" with a live-action "Monsters University," the result would look and feel something like Troop Zero, a whimsical, if not generic kiddie adventure more suited for young ones than grown-ups.
Troop Zero (2019)
In rural 1977 Georgia, a misfit girl dreams of life in outer space. When a national competition offers her a chance at her dream, to be recorded on NASA's Golden Record, she recruits a makeshift troupe of Birdie Scouts, forging friendships that last a lifetime and beyond.