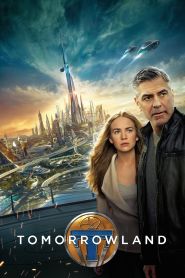 General Information
Glossary: T
Released Year: 2015
Runtime: 130 minutes
Genre: Action, Adventure, Family, Mystery, Sci-Fi
Directors: Brad Bird
Casts: Kathryn Hahn, George Clooney, Judy Greer, Michael Giacchino, Hugh Laurie, Patrick Sabongui, Darren Shahlavi, Keegan-Michael Key, Tom Butler, Tim Perez, Paul Anthony, Tim McGraw, Pierce Gagnon, Chris Bauer, Garry Chalk, Barbara Keegan, Xantha Radley, Thomas Robinson, Matthew Kevin Anderson, Britt Robertson, Raffey Cassidy, Rick Pearce, Alex Barima, Paul McGillion, Fraser Corbett, Michael Rowe, Shiloh Nelson, Matthew MacCaull, D. Harlan Cutshall, David Nykl, Pearce Visser, Dagan Nish, Yusuf A. Ahmed, Jedidiah Goodacre, Kate Crutchlow, Priya Rajaratnam, Parm Soor, Leena Manro, Romuald Hivert, Mathieu Lardier, Aidan Gemme, Takayuki Oki, Natasha Davidson, Liliane Leilan Juma, Kenia Arias, Kimberly Arklie, Nicholas Barrera, Jason Bell, Wendy Bell, Aimee Bowen, Chrystall Friedemann, Felix Kjellberg
IMDB: Tomorrowland (2015)
Sponsored Links
Ratings
User Rating:
IMDB Rating:
6.5
Reviews
The Hollywood Reporter

-

All hands on both sides of the camera do outstanding work. Clooney seems to be enjoying himself thoroughly as the old grump whose creative flame hasn't been entirely extinguished, but it falls more to Robertson to carry the film, which she does with great energy and appeal.

IndieWire

-

Bird has crafted a gorgeous world rife with creativity and inventive images. A Spielbergian sense of candid awe and wonder permeates each scene with a nostalgic edge.

The Guardian

-

Director Brad Bird deserves praise for packing such big ideas into such an accessible, rip-roaring, retro-futurist adventure.

Empire

-

Bird and Lindelof have thrown everything they have at this film and, aside from a pause for breath at the end, they've made something funny, surprising and packed full of wonder.

Total Film

-

If you're willing to let a few things slide, this is one of the best family blockbusters in years. Clooney and Robertson (literally) soar, the madcap action always feels grounded and Bird's world is bursting with visual invention.
Tomorrowland (2015)
Bound by a shared destiny, a bright, optimistic teen bursting with scientific curiosity and a former boy-genius inventor jaded by disillusionment embark on a danger-filled mission to unearth the secrets of an enigmatic place somewhere in time and space that exists in their collective memory as "Tomorrowland."