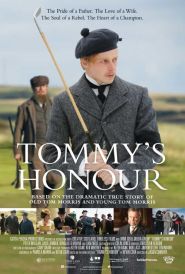 General Information
Glossary: T
Released Year: 2017
Runtime: 117 minutes
Genre: Biography, Drama, Romance, Sport
Directors: Jason Connery
Casts: Peter Mullan, Ophelia Lovibond, Sam Neill, Ian Pirie, Peter Ferdinando, Max Deacon, Jack Lowden, Paul Reid, James Smillie, Andy Gray
IMDB: Tommy's Honour (2016)
Sponsored Links
Ratings
User Rating:
IMDB Rating:
6.1
Reviews
The Hollywood Reporter

-

This historical account offers an engrossing and accessible celebration of the game's modern origins, enhanced by striking locations and a standout cast, led by Scottish actors Peter Mullan and Jack Lowden.

TheWrap

-

Although Tommy's Honour has clearly been made by a golf obsessive who loves the links, it's the rare sports biography that keeps its eye on the ball of character and milieu.

San Francisco Chronicle

-

He (Connery) hasn't made a film for the ages, but it's on par with other decent historical sports dramas.

Village Voice

-

Golf's become such a ridiculously well-heeled pastime that it's refreshing to see it portrayed in its infancy, when clubs were carried like a bunch of kindling and the desolate greens of St. Andrews were more like the hazards of today's game.

Wall Street Journal

-

In its agreeably eccentric spirit, Tommy's Honour evokes the Scottish comedies of Bill Forsyth; here it's oddballs among the handmade, undimpled golf balls.
Tommy's Honour (2016)
In every generation, a torch passes from father to son. And that timeless dynamic is the beating heart of Tommy's Honor - an intimate, powerfully moving tale of the real-life founders of the modern game of golf.