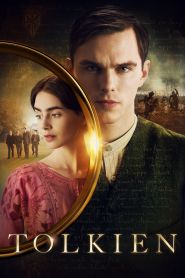 General Information
Glossary: T
Released Year: 2019
Runtime: 112 minutes
Genre: Drama, History, Romance, War
Directors: Dome Karukoski
Casts: Derek Jacobi, Nicholas Hoult, Lily Collins, Colm Meaney, Genevieve O'Reilly, Craig Roberts, Pam Ferris, Joel Phillimore, Nia Gwynne, Owen Teale, Adrian Schiller, Laura Donnelly, Patrick Gibson, David Puckridge, Tom Glynn-Carney, Mimi Keene, Sian Crisp, Guillermo Bedward, Anthony Boyle, Harry Gilby, Adam Bregman, Albie Marber, Ty Tennant, Al Bollands, Kallum Tolkien, Toby Nash, Michael Bryceson, Andrew Bissell, Antony Raymond Barlow, James MacCallum, David Bromley, Lara Maguire, Holly Dempster, Jane Dixon-Rowland, David Birkbeck, Colin Macdonald Burnie, Andy Orchard, Frank Kerr, Rob Rhys Bond, John Bradfield, Mia Woods, Sienna Woods, Paul Gurcel Escudero, Harry Webster, Jack Riley
IMDB: Tolkien (2019)
Sponsored Links
Ratings
User Rating:
IMDB Rating:
6.8
Reviews
The Hollywood Reporter

-

Handsomely made in the customarily fastidious style of most period biographical dramas, Tolkien is strongly served by Hoult, who, after four X-Men outings (and a supporting role in last year's The Favourite), demonstrates that it's high time he moved on from that sort of thing to more interesting and challenging dramatic characterizations.

IGN

-

Tolkien may disappoint fans looking for a LOTR origin but will please those who like stories of art, love & friendship.

Empire

-

Karukoski's entertaining film boasts flair and narrative ambition, but ultimately fails to completely break free of its traditional biopic frame.

The Guardian

-

This is a very male world and perhaps the inner life of Edith remains a mystery (as perhaps it might have been for Tolkien), but its earnestness and idealism are refreshing.

IndieWire

-

While it still dilutes Tolkien's memory by molding his life to the narrow dimensions of a middle-brow feature that's too safe for the arthouse and too small for the multiplex, at least it does so in a sincere attempt to trace the etymology of Tolkien's work, and to emphasize that where stories come from can be as meaningful as where they take us.
Tolkien (2019)
England, early 20th century. The future writer and philologist John Ronald Reuel Tolkien (1892-1973) and three of his schoolmates create a strong bond between them as they share the same passion for literature and art, a true fellowship that strengthens as they grow up, but the outbreak of World War I threatens to shatter it.