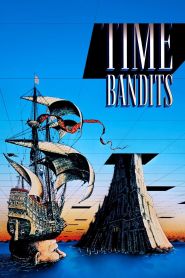 General Information
Glossary: T
Released Year: 1981
Runtime: 116 minutes
Genre: Adventure, Comedy, Fantasy, Sci-Fi
Directors: Terry Gilliam
Writers: Terry Gilliam, Michael Palin
Casts: Jim Broadbent, Tony Jay, Ian Holm, John Cleese, Katherine Helmond, Roger Frost, Terence Bayler, Derek Deadman, Kenny Baker, Jack Purvis, Mike Edmonds, Malcolm Dixon, David Warner, Sean Connery, Marcus Powell, Shelley Duvall, Charles McKeown, Peter Vaughan, Derrick O'Connor, Michael Palin, John Young, Neil McCarthy, Andrew MacLachlan, Ralph Richardson, Jerold Wells, Peter Jonfield, Mark Holmes, David Leland, Craig Warnock, David Rappaport, Tiny Ross, David Daker, Sheila Fearn, Myrtle Devenish, Winston Dennis, Preston Lockwood, Leon Lissek, Declan Mulholland
IMDB: Time Bandits (1981)
Sponsored Links
Ratings
User Rating:
IMDB Rating:
7.0
Reviews
Empire

-

For a kids film this is pleasingly dark with Gilliam delivering as much classical fairy tale as knockabout comedy.

ReelViews

-

The blend of quick-moving adventure, familiar faces, lowbrow slapstick, highbrow wit, and visual style offers more than one thing to just about everyone. And, with an ending that mocks the idea of happily ever after, Time Bandits concludes perfectly.

Time Out London

-

An extraordinarily inventive fantasy in which schoolboy Warnock is rescued from a dull suburban existence by a band of renegade dwarfs, who emerge from his wardrobe and whisk him off on an incredible journey through time and space. Sometime Monty Python animator Gilliam fills the screen with bizarre images, and directs with a breathless ingenuity.

TV Guide Magazine

-

This wild and sometimes woolly fantasy is delivered in the customary chaotic Python style, resulting in an onslaught of witticisms and slapstick.

Chicago Sun-Times

-

First reactions while viewing Time Bandits: It's amazingly well-produced. The historic locations are jammed with character and detail. This is the only live-action movie I've seen that literally looks like pages out of Heavy Metal magazine, with kings and swordsmen and wide-eyed little boys and fearsome beasts.
Time Bandits (1981)
Young history buff Kevin can scarcely believe it when six dwarfs emerge from his closet one night. Former employees of the Supreme Being, they've purloined a map charting all of the holes in the fabric of time and are using it to steal treasures from different historical eras. Taking Kevin with them, they variously drop in on Napoleon, Robin Hood and King Agamemnon before the Supreme Being catches up with them.