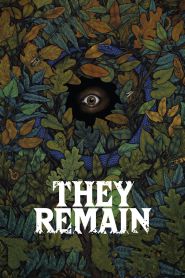 General Information
Glossary: T
Released Year: 2018
Runtime: 102 minutes
Genre: Thriller
Directors: Philip Gelatt
Writers: Philip Gelatt
Casts: William Jackson Harper, Rebecca Henderson
IMDB: They Remain (2018) - IMDB
Sponsored Links
Ratings
User Rating:
IMDB Rating:
4.1
Reviews
The New York Times

-

They Remain, directed, edited and scripted by Philip Gelatt, from a short story by Laird Barron, shows that it's possible to a make an engrossing genre piece on limited resources.

Los Angeles Times

-

This movie remains subtle throughout, emphasizing the tenuousness of reality and the unmooring isolation of the bush.

IndieWire

-

They Remain, the new thriller from director Philip Gelatt ("The Bleeding House") hews closely to some predictable beats, but it's an engrossing exercise in boiling familiar ingredients down to pure, unbridled creepiness.

The A.V. Club

-

Beyond the performances, They Remain is uneven. The film uses a series of innovative, old-school visual tricks to create a surreal and hallucinatory vibe, and when something works, it's powerful and discomfiting.

The Hollywood Reporter

-

A slow burn often works in creep-outs such as this, but here the pacing is a deficit, despite an especially good performance by Harper (of NBC's The Good Place) as the worker whose partner may be turning against him.
They Remain (2018)
Two scientists investigate the root of environmental changes and strange animal behavior at a remote site where a cult committed atrocities. The isolated location, the unraveling of their relationship, and the biome itself begin to lead them down a path of doom where primeval forces threaten to consume them. An adaptation of Laird Barron's short story "–30–".