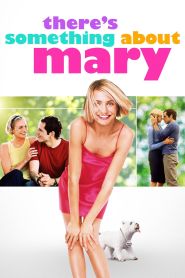 General Information
Glossary: T
Released Year: 1998
Runtime: 119 minutes
Genre: Comedy, Romance
Directors: Bobby Farrelly, Peter Farrelly
Casts: Ben Stiller, Cameron Diaz, Sarah Silverman, Keith David, Jeffrey Tambor, Richard Jenkins, Matt Dillon, Harland Williams, Lin Shaye, W. Earl Brown, Willie Garson, Chris Elliott, Richard Tyson, Rob Moran, Lee Evans, Markie Post, Brett Favre, Khandi Alexander, Steve Tyler
IMDB: There's Something About Mary (1998)
Sponsored Links
Ratings
User Rating:
IMDB Rating:
7.1
Reviews
The A.V. Club

-

One of the funniest movies of the year, but you may need to shower afterwards.

USA Today

-

A gut-busting blast of tasteless tomfoolery.

New York Daily News

-

A shocking and hilarious triumph.

Los Angeles Times

-

The Farrellys here show a gift not just for finding humor where others have feared to look but for presenting it in a way that is surprisingly close to irresistible.

Chicago Reader

-

Their gross-out humor is basically sweet tempered, for all its tweaking of PC attitudes, and though this film looks slapdash, its script (by the Farrellys, Ed Decter, and John J. Strauss) is surprisingly well put together.
There's Something About Mary (1998)
For Ted, prom night went about as bad as it's possible for any night to go. Thirteen years later, he finally gets another chance with his old prom date, only to run up against other suitors including the sleazy detective he hired to find her.