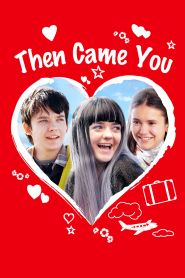 General Information
Glossary: T
Released Year: 2019
Runtime: 97 minutes
Genre: Adventure, Comedy
Directors: Peter Hutchings
Writers: Fergal Rock
Casts: David Koechner, Ken Jeong, Peyton List, Asa Butterfield, Nina Dobrev, Tyler Hoechlin, Sonya Walger, Briana Venskus, Colin Moss, Maisie Williams, Tituss Burgess, Ashlyn Alessi, Margot Bingham, Ann Osmond, Billy Thomas Myott, L. Steven Taylor
IMDB: Then Came You (2019)
Sponsored Links
Ratings
User Rating:
IMDB Rating:
7.0
Reviews
Film Threat

-

Then Came You has a little of every romantic film that you've seen in the past two decades, and even though it's not quite original, it still is a good film that will give you a lump in your throat. The talent in front and behind the camera are reasons alone to give this film a watch.

The Film Stage

-

There are some solid supporting performances in small dramatic doses (Koechner, Hochlin, and Walger) and comedic ones too (Jeong, Venskus, and Tituss Burgess do well in mostly thankless roles), but the topline trio is where Then Came You is at its best.

Movie Nation

-

As familiar as the path Then Came You generally takes might be, it's got lots of clever laugh-at-death touches, a few sparkling surprises and a gut-punch third act "reveal."

Variety

-

Since the filmmakers' hearts are clearly in the right place, it's a shame its parts couldn't knit together a bit more seamlessly. The narrative's lifeblood is the sweet friendship that develops between Calvin and Skye — and the actors' magnetic chemistry keeps that alive.

The Hollywood Reporter

-

Although it features strong performances and some affecting moments, Then Came You suffers from the sort of cutesiness endemic to so many teen-oriented films, not to mention an over-reliance on montages accompanied by a pop music soundtrack that helpfully reminds you exactly what you're supposed to be feeling at any given moment.
Then Came You (2019)
An American hypochondriac who is working as a baggage handler is forced to confront his fears when a British teenager with a terminal illness enlists him to help her carry out her eccentric bucket list.