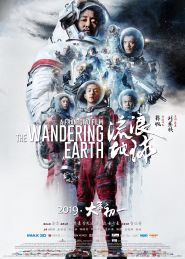 General Information
Glossary: T
Released Year: 2019
Runtime: 125 minutes
Genre: Action, Comedy, Drama, Sci-Fi
Directors: Frant Gwo
Casts: Wu Jing, Ng Man-Tat, Wang Zhi, Li Guangjie, Lu Yang, Lei Jiayin, Chuxiao Qu, Jinmai Zhao, Mike Sui, Qu Jingjing, Zhang Yi-Chi, Haoyu Yang, Arkady Sharogradsky, Hongchen Li, Zhigang Jiang, Hao Ning, Liu Cixin, Guo Jingfei, Xiaobei Zhang, Xiaozhi Rao, Gong Ge-Er, Frant Gwo
IMDB: The Wandering Earth (2019)
Sponsored Links
Ratings
User Rating:
IMDB Rating:
7.0
Reviews
RogerEbert.com

-

A week after seeing The Wandering Earth, I'm still marveling at how good it is. I can't think of another recent computer-graphics-driven blockbuster that left me feeling this giddy because of its creators' can-do spirit and consummate attention to detail.

Austin Chronicle

-

The Wandering Earth is as much a love letter to disaster films as it is a worthy entry in the genre itself. That, combined with some truly eye-popping visuals, makes it a film that should be seen on the biggest screen possible.

The Verge

-

No matter how familiar the plot beats feel, that level of attention not just to functional special effects, but to outright beauty, makes The Wandering Earth memorable.

Variety

-

Director Frant Gwo's adaptation of the 2000 novella by Liu Cixin is no genre classic, but its furious pace, spectacular visuals, and fanciful plot deliver decent escapist entertainment.

Slate

-

Despite the production's team of scientist consultants, the physics in The Wandering Earth is probably a lot of hooey. But the film's world building, which takes up much of its first third, is undeniably novel and fascinating. Rarely does a film brag such a technocratic heart.
The Wandering Earth (2019)
The sun is dying out, a group of brave astronauts set out to find a new home for the entire human race and the planet.