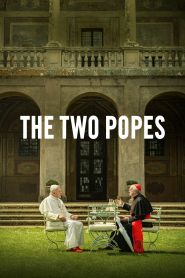 General Information
Glossary: T
Released Year: 2019
Runtime: 125 minutes
Genre: Comedy, Drama, History
Directors: Fernando Meirelles
Casts: Jonathan Pryce, Anthony Hopkins, Juan Minujín, Luis Gnecco, Pope Francis, Sidney Cole, Federico Torre, Matthew T. Reynolds, María Ucedo, Libero De Rienzo, Cristina Banegas, Pope Benedict XVI, Dilma Rousseff
IMDB: The Two Popes (2019)
Sponsored Links
Ratings
User Rating:
IMDB Rating:
7.7
Reviews
TheWrap

-

What makes The Two Popes so delightful, other than the very funny script, is watching two seasoned actors play off each other for two hours. Both Hopkins and Pryce illustrate what the craft of acting is really about.

The Globe and Mail (Toronto)

-

It is extremely difficult to make something as invisible and ineffable as religious faith seem real, let alone touching, on film; doing that is only one of the achievements of Fernando Meirelles' unusual look inside the papacy.

The Hollywood Reporter

-

Anchored by two outstanding performances from Anthony Hopkins and Jonathan Pryce, the film is a triumph of writing as well as unostentatious filmmaking.

Variety

-

While its subject may be religious, The Two Popes doesn't want to convert the viewer. Rather, as an extraordinary piece of writing — and an even more impressive showcase for its actors — it eloquently communicates the importance of giving people something to believe in.

Screen International

-

The delicate dance between the two veteran actors, both eagerly devouring a late-life jewel of a script, is a joy to behold.
The Two Popes (2019)
Frustrated with the direction of the church, Cardinal Bergoglio requests permission to retire in 2012 from Pope Benedict. Instead, facing scandal and self-doubt, the introspective Pope Benedict summons his harshest critic and future successor to Rome to reveal a secret that would shake the foundations of the Catholic Church. Behind Vatican walls, a struggle commences between both tradition and progress, guilt and forgiveness, as these two very different men confront their pasts in order to find common ground and forge a future for a billion followers around the world.