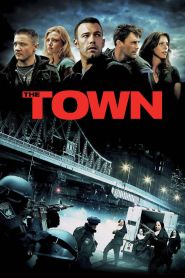 General Information
Glossary: T
Released Year: 2010
Runtime: 125 minutes
Genre: Crime, Drama, Thriller
Directors: Ben Affleck
Casts: Victor Garber, Jeffrey Feingold, Brian Scannell, David Boston, Jeffrey Corazzini, Jim Ford, Joseph Oliveira, Mark Falvo, Adam Masnyk, John Franchi, Blake Lively, Ben Affleck, Rebecca Hall, Jeremy Renner, Stephen Bishop, Jon Hamm, Rich Manley, Chris Cooper, Ted Arcidi, Jeremiah Kissel, Alex East, Dan Marshall, Jeff Martineau, Thomas Olson, London Hall, David Struffolino, Pete Postlethwaite, Tony V., Carlos Foglia, Titus Welliver, Owen Burke, Corena Chase, Gary Galone, Michael Yebba, Georgia Lyman, Duncan B. Putney, Kevin McCormick, William Xifaras, Slaine, Dennis McLaughlin, Kerri Dunbar, Brian A. White, Peter Looney, Chick Bernhard, Nicholas Cairis, George J. Vezina, Chris Palermo, Thomas McGowan
IMDB: The Town (2010)
Sponsored Links
Ratings
User Rating:
IMDB Rating:
7.6
Reviews
Entertainment Weekly

-

A rich, dark, pulpy mess of entanglements that fulfills all the requirements of the genre, and is told with an ease and gusto that make the pulp tasty.

Boxoffice Magazine

-

If "Heat" and "The Departed" had a baby, the result might come close to The Town, a riveting and explosive crime thriller and one of the year's best pictures.

Variety

-

The behind-the-camera talent Ben Affleck displayed so bracingly in "Gone Baby Gone" is confirmed, if not significantly advanced, in The Town. Again proving a fine director of actors (this time with himself in a starring role), Affleck delivers another potent, serious-minded slice of pulp set on Boston's meanest streets, where loyalty among thieves runs thicker than blood.

Newsweek

-

Affleck directed, stars in, and co-wrote The Town, a suspenseful, fiercely paced movie about bank robbers that is also about love, brotherhood, and the desperate need to escape a crooked life. It proves that "Gone Baby Gone," his accomplished directing debut, was no fluke.

New York Magazine (Vulture)

-

In The Town, he (Renner) doesn't signal that Jem is a sociopath... It's a deeply unnerving performance, beyond good or evil.
The Town (2010)
Doug MacRay is a longtime thief, who, smarter than the rest of his crew, is looking for his chance to exit the game. When a bank job leads to the group kidnapping an attractive branch manager, he takes on the role of monitoring her – but their burgeoning relationship threatens to unveil the identities of Doug and his crew to the FBI Agent who is on their case.