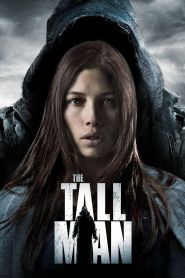 General Information
Glossary: T
Released Year: 2012
Runtime: 106 minutes
Genre: Crime, Drama, Mystery, Thriller
Directors: Pascal Laugier
Writers: Pascal Laugier
Casts: Stephen McHattie, Jessica Biel, Jodelle Ferland, Eve Harlow, Janet Wright, William B. Davis, Jakob Davies, Samantha Ferris, Colleen Wheeler
IMDB: The Tall Man (2012) - IMDB
Sponsored Links
Ratings
User Rating:
IMDB Rating:
5.9
Reviews
The New York Times

-

Ultimately his story draws more energy from class than from criminality: awash in sludgy browns and rotting greens - the colors of poverty and decomposition - this unpredictable oddity is a little bonkers but a lot original.

The A.V. Club

-

In easily her best performance - and sadly, one few will see, given the film's modest release strategy - Jessica Biel stars as a single mother in Cold Rock, Washington.

Slant Magazine

-

Illustrates the problem of class mobility with a dark, troubling premise that holds a harsh light up to our own assumptions and expectations.

Los Angeles Times

-

Long on atmosphere and short on sense, The Tall Man becomes less gripping as it grows more ridiculous.

New York Post

-

Spits out enough scares and twists to maintain our interest, but the film's psycho-sociological layer is almost as cheesy and unconvincing as its low-rent action scenes.
The Tall Man (2012)
When her child goes missing, a mother looks to unravel the legend of the Tall Man, an entity who allegedly abducts children.