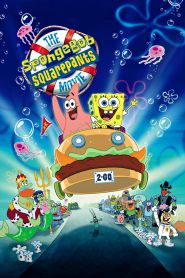 General Information
Glossary: T
Released Year: 2004
Runtime: 87 minutes
Genre: Adventure, Animation, Comedy, Family
Directors: Stephen Hillenburg
Casts: David Hasselhoff, Scarlett Johansson, Jeffrey Tambor, Alec Baldwin, Clancy Brown, Rodger Bumpass, Tom Kenny, Bill Fagerbakke, Carolyn Lawrence, Mr. Lawrence
IMDB: The SpongeBob SquarePants Movie (2004)
Sponsored Links
Ratings
User Rating:
IMDB Rating:
7.0
Reviews
Christian Science Monitor

-

The delights of the movie lie in its zany characters, its goofy settings, and above all its surrealistic visual style.

The Hollywood Reporter

-

The result is an animated adventure that's funnier than "Shark Tale" and more charming than "The Polar Express."

L.A. Weekly

-

The movie is driven almost entirely by its exhilaratingly subversive characters.

Philadelphia Inquirer

-

The trippy creation of onetime marine biologist Stephen Hillenburg, SpongeBob is a cockeyed optimist toiling at the bottom of the fast-food chain.

Variety

-

Possesses charm, as well as visual and musical appeal, on the bigscreen. But as with many short-form TV entities when sextupled in length, "SpongeBob" proves more palatable as scrumptious fast food than full-scale repast.
The SpongeBob SquarePants Movie (2004)
There's trouble brewing in Bikini Bottom. Someone has stolen King Neptune's crown, and it looks like Mr. Krab, SpongeBob's boss, is the culprit. Though he's just been passed over for the promotion of his dreams, SpongeBob stands by his boss, and along with his best pal Patrick, sets out on a treacherous mission to Shell City to reclaim the crown and save Mr. Krab's life.