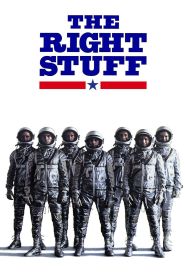 General Information
Glossary: T
Released Year: 1983
Runtime: 193 minutes
Genre: Drama, History
Directors: Philip Kaufman
Casts: Ed Harris, Dennis Quaid, Sam Shepard, Fred Ward, Lance Henriksen, Scott Glenn, Jeff Goldblum, Barbara Hershey, Harry Shearer, Veronica Cartwright, Kathy Baker, Donald Moffat, David Clennon, O-Lan Jones, Pamela Reed, Scott Wilson, David Gulpilil, Mary Jo Deschanel, William Russ, Scott Paulin, Jim Haynie, John P. Ryan, Kim Stanley, Royal Dano, John Dehner, Levon Helm, Charles Frank, Mickey Crocker, Susan Kase, Mittie Smith, Anthony Munoz, Mary Apick, Chuck Yeager
IMDB: The Right Stuff (1983)
Sponsored Links
Ratings
User Rating:
IMDB Rating:
7.9
Reviews
Chicago Sun-Times

-

Kaufman's love for the Yeager character pays off in the magical closing sequence of the film, when the "best pilot in the world" eyeballs anew Air Force jet and says, "I have a feeling this little old plane right here might be able to beat that Russian record."

Empire

-

Consistently compelling, capturing all the ambiguity and tension of the book.

The Hollywood Reporter

-

Rarely has a film made a historic accomplishment seem so vivid and personal.

Time Out

-

Kaufman (like Tom Wolfe, whose book The Right Stuff this is taken from) is well enough aware of the media circus surrounding the whole project, but still celebrates his magnificent seven's heroism with a rhetoric that is respectful and irresistible.

TV Guide Magazine

-

Director-writer Philip Kaufman's script brings a wealth of humor to a faithful retelling of the astronauts' fascinating stories, the actors fit smoothly into their roles and even physically resemble their characters, and the direction is well-paced and visually exciting.
The Right Stuff (1983)
A chronicle of the original Mercury astronauts in the formation of America's space program: Alan Shepherd, the first American in space; Gus Grissom, the benighted astronaut for whom nothing works out as planned; John Glenn, the straight-arrow 'boy scout' of the bunch who was the first American to orbit the earth; and the remaining pilots: Deke Slayton, Scott Carpenter and Wally Schirra.