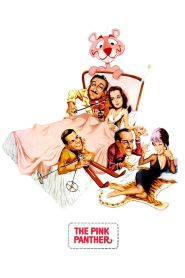 General Information
Glossary: T
Released Year: 1963
Runtime: 115 minutes
Genre: Comedy, Crime
Directors: Blake Edwards
Casts: Robert Wagner, John Bartha, Peter Sellers, Claudia Cardinale, John Le Mesurier, David Niven, Meri Welles, William Bryant, Eugene Walter, Michael Trubshawe, Martin Miller, Guy Thomajan, James Lanphier, Capucine, Brenda De Banzie, Colin Gordon, Riccardo Billi, Fran Jeffries, Mario Fabrizi, Wael Zuaiter
IMDB: The Pink Panther (1963)
Sponsored Links
Ratings
User Rating:
IMDB Rating:
7.1
Reviews
Variety

-

Quite apart from the general air of bubbling elegance, the pic is intensely funny. The yocks are almost entirely the responsibility of Peter Sellers, who is perfectly suited as a clumsy cop who can hardly move a foot without smashing a vase or open a door without hitting himself on the head.

IGN

-

Two years after triumphing with the Audrey Hepburn masterpiece Breakfast at Tiffany's, Blake Edwards directs this crossed-wires ensemble caper, which stars David Niven as Sir Charles Lytton, a lothario and master criminal pursued by the bumbling Inspector Clouseau (played by Sellers).

The New York Times

-

There is one thing about this picture that is clever and joyous, at least. That is a cartooned pink panther that runs through the main titles at the start making mischief with the lettering, insistently getting in the way. He is so blithe and bumptious, so sweet and entirely lovable, that he's awfully hard to follow. It's questionable whether the picture does.

Time Out

-

Live action cartoonery had been underworked since Tashlin mapped its possibilities with Jerry Lewis, but the novelty value of Sellers' disaster-prone Inspector Clouseau, funny French accent and all, wore off quicker than its commercial value.
The Pink Panther (1963)
The trademark of The Phantom, a renowned jewel thief, is a glove left at the scene of the crime. Inspector Clouseau, an expert on The Phantom's exploits, feels sure that he knows where The Phantom will strike next and leaves Paris for Switzerland, where the famous Lugashi jewel 'The Pink Panther' is going to be. However, he does not know who The Phantom really is, or for that matter who anyone else really is...