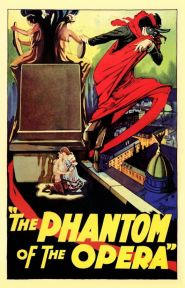 General Information
Glossary: T
Released Year: 1925
Runtime: 101 minutes
Genre: Drama, Horror
Directors: Rupert Julian
Casts: John Miljan, Ellinor Vanderveer, Ruth Clifford, Chester Conklin, George Davis, Gibson Gowland, Carla Laemmle, Lon Chaney, Mary Philbin, Norman Kerry, Arthur Edmund Carewe, John St. Polis, Snitz Edwards, Virginia Pearson, Olive Ann Alcorn, Betty Van Allen, Betty Arthur, Joseph Belmont, Alexander Bevani, Earl Gordon Bostwick, Ethel Broadhurst, Edward Cecil, Roy Coulson, Bruce Covington, Ward Crane, Madame Fiorenza, Alan George, Cesare Gravina, William Humphrey, Grace Marvin, Edith Murgatroyd, Templar Saxe, Bernard Siegel, William Tyroler, Vola Vale, Anton Vaverka, Josephine Haynes Webster, George B. Williams, Ed Wolff
IMDB: The Phantom of the Opera (1925)
Sponsored Links
Ratings
User Rating:
IMDB Rating:
7.6
Reviews
| | |
| --- | --- |
| | There are currently no reviews available. |
The Phantom of the Opera (1925)
A grotesquely disfigured composer known as "The Phantom" haunts Paris' opera house, where he's secretly grooming Christine Daae to be an opera diva. Luring her to his remote underground lair, The Phantom declares his love. But Christine loves Raoul de Chagny and plans to elope with him. When The Phantom learns this, he abducts Christine.