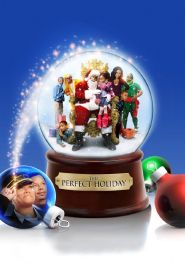 General Information
Glossary: T
Released Year: 2007
Runtime: 96 minutes
Genre: Comedy, Drama, Family, Romance
Directors: Lance Rivera
Writers: Lance Rivera
Casts: Dylan Hartigan, Queen Latifah, Faizon Love, Morris Chestnut, Rachel True, Terrence Howard, Charlie Murphy, Conor Carroll, Gabrielle Union, Katt Williams, Ira Hawkins, Jill Marie Jones, John 'B.J.' Bryant, Brian Gilbert, Christopher Burns, David Anzuelo, Sandra 'Pepa' Denton, Lisa Datz, Maria Ford, Frank Bonsangue, Malik Hammond, Khail Bryant, Pedro Kim, Paul Woodbum, Modi, Amber Joy Williams, Reymond Wittman, Victoria Pannell, Mary L. Narango
IMDB: The Perfect Holiday (2007)
Sponsored Links
Ratings
User Rating:
IMDB Rating:
4.4
Reviews
Chicago Sun-Times

-

There's not much original about the film, but it's played with high spirits and good cheer, there are lots of musical interludes, and it's pitched straight at families.

Chicago Tribune

-

Strives to be nothing more than easygoing and heartwarming.

The Hollywood Reporter

-

If "This Christmas" served up a crowd-pleasing portion of yuletide "Soul Food," then The Perfect Holiday offers dried-out leftovers.

Variety

-

Neither perfect nor much of a holiday, more like a fruitcake passed around from arthritic aunt to demented uncle -- stale, predictable and made with fossilized ingredients.

New York Daily News

-

If you're really hoping for a perfect holiday, steer clear of this stale fruitcake of a comedy.
The Perfect Holiday (2007)
Laughter, love and just a hint of magic make for THE PERFECT HOLIDAY, a fun-filled comedy romance starring Morris Chestnut, Gabrielle Union, Charlie Murphy, Katt Williams, Faizon Love, Terrence Howard and Queen Latifah. All Nancy Taylor (Union) wants for Christmas is to meet a nice man. So when her little girl shares Mommy's wish with smitten shopping mall Santa, Benjamin Armstrong (Chestnut), he does his best to make her dream come true in this delightful holiday treat the entire family will enjoy!