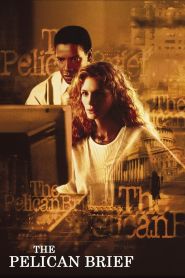 General Information
Glossary: T
Released Year: 1993
Runtime: 141 minutes
Genre: Crime, Drama, Mystery, Thriller
Directors: Alan J. Pakula
Casts: Denzel Washington, Sam Shepard, John Lithgow, Stanley Tucci, William Atherton, Tony Goldwyn, Julia Roberts, Jake Weber, John Heard, Anthony Heald, Tom Quinn, Cynthia Nixon, James Sikking, Hume Cronyn, Ralph Cosham, Robert Culp
IMDB: The Pelican Brief (1993) - IMDB
Sponsored Links
Ratings
User Rating:
IMDB Rating:
6.6
Reviews
Chicago Sun-Times

-

By casting attractive stars in the leads, by finding the right visual look, by underlining the action with brooding, ominously sad music, a good director can create the illusion of meaning even when nothing's there.

The New York Times

-

The story, neatly compressed, unfolds in dependable and photogenic ways. And it is coaxed along by Mr. Pakula's considerable skills as a brisk, methodical film maker.

Empire

-

Much like Pakula's "Presumed Innocent", this is a solid and intelligent, if unspectacular adaptation, and just a tad tighter than The Firm to give it the edge that's needed.

Chicago Reader

-

It's too bad that Pakula allows this 1993 movie to dawdle after its climax, but prior to that he's adept at suggesting unseen menace and keeping things in motion.

Austin Chronicle

-

Unfortunately, The Pelican Brief comes across as a prolonged bout with deja vu: you know you've seen this before, and more than once at that.
The Pelican Brief (1993)
Two Supreme Court Justices have been assassinated. One lone law student has stumbled upon the truth. An investigative journalist wants her story. Everybody else wants her dead.