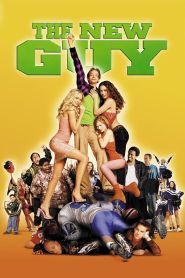 General Information
Glossary: T
Released Year: 2002
Runtime: 88 minutes
Genre: Comedy
Directors: Ed Decter
Writers: David Kendall
Casts: Kurt Fuller, Zooey Deschanel, David Hasselhoff, DJ Qualls, M.C. Gainey, Tony Hawk, Geoffrey Lewis, Illeana Douglas, Eddie Griffin, Henry Rollins, Ross Patterson, Sunny Mabrey, Eliza Dushku, Charlie O'Connell, Jerod Mixon, Parry Shen, Lyle Lovett, Julius Carry, Josh Todd
IMDB: The New Guy (2002)
Sponsored Links
Ratings
User Rating:
IMDB Rating:
5.9
Reviews
The Globe and Mail (Toronto)

-

If physical appearance creates its own class system (in high school and beyond), then Qualls is perfect for this proselytizing role. He has that rarest of movie-star faces -- one that over comes the tyranny of beauty.

Entertainment Weekly

-

A Jekyll-and-Hyde teen comedy that sounds like a Pauly Shore reject, but Qualls moves his marionette body around with a true clown's effervescence, and he does rubber-faced parodies of youth cool that are just what youth cool deserves.

The A.V. Club

-

A comedy just funny enough to make viewers wish it were far funnier.

Chicago Reader

-

It isn't very good, but it doesn't seem to care, which turns out to be rather refreshing.

Chicago Tribune

-

You have to have faith that kids will recognize a bad movie when it's foisted on them -- and they don't get much worse than The New Guy.
The New Guy (2002)
Nerdy high school senior Dizzy Harrison has finally gotten lucky -- after purposely getting expelled, he takes lessons in 'badass cool' from a convict and enrolls at a new school. But can he keep up the ruse?