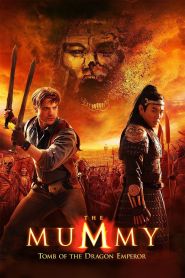 General Information
Glossary: T
Released Year: 2008
Runtime: 112 minutes
Genre: Action, Adventure, Fantasy, Horror, Thriller
Directors: Rob Cohen
Casts: Michelle Yeoh, Liam Cunningham, Maria Bello, Luke Ford, Albert Kwan, Brendan Fraser, Jet Li, John Hannah, Isabella Leong, Anthony Wong, Russell Wong, David Calder, Jessey Meng, Tian Liang, Wu Jing
IMDB: The Mummy: Tomb of the Dragon Emperor (2008) - IMDB
Sponsored Links
Ratings
User Rating:
IMDB Rating:
5.2
Reviews
Chicago Sun-Times

-

Now why did I like this movie? It was just plain dumb fun, is why. It is absurd and preposterous, and proud of it.

The A.V. Club

-

Dragon Emperor succeeds largely through sheer excess: It's doubtful that any idea was thrown out for being too implausible.

Entertainment Weekly

-

After an hour of inert exposition, a race through Shanghai gooses the movie alive. Then it plunges back into torpor.

Philadelphia Inquirer

-

The movie bogs down in tiresome good guys vs. bad guys action cliches.

Chicago Tribune

-

The film has one objective: to smack its audience in the face with fleeting, competing wows, over and over.
The Mummy: Tomb of the Dragon Emperor (2008)
Archaeologist Rick O'Connell travels to China, pitting him against an emperor from the 2,000-year-old Han dynasty who's returned from the dead to pursue a quest for world domination. This time, O'Connell enlists the help of his wife and son to quash the so-called 'Dragon Emperor' and his abuse of supernatural power.