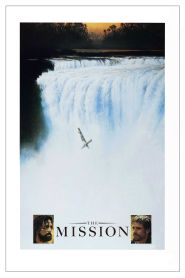 General Information
Glossary: T
Released Year: 1986
Runtime: 126 minutes
Genre: Action, Adventure, Drama, History
Directors: Roland Joffé
Casts: Liam Neeson, Jeremy Irons, Robert De Niro, Ronald Pickup, Chuck Low, Aidan Quinn, Cherie Lunghi, Ray McAnally, Bercelio Moya, Sigifredo Ismare, Daniel Berrigan
IMDB: The Mission (1986)
Sponsored Links
Ratings
User Rating:
IMDB Rating:
7.4
Reviews
Empire

-

Passionate performances from De Niro and Jeremy Irons in this stark but thematically complex historical drama.

The Guardian

-

Powerful and atmospheric, if oddly structureless, The Mission is a magnificently filmed and strongly political view of the conflict between church, state and capitalism.

ReelViews

-

The Mission is beautiful to look at, features impeccable period and setting detail, and offers a fascinating and tragic backstory, but it falls short in many simple human qualities. Overall, it's an impressive motion picture, but lacks the epic greatness sometimes associated with it.

Washington Post

-

The Mission is majestic, sometimes moving, sometimes mawkish. Should you choose to accept it, your religious tolerance will be tested. But there are rewards -- fascinating insights into the byzantine business of diplomacy and gorgeous photography of the roaring Iguazu Falls, an eden of fog and roaring water, and of the sleepy walled city of Cartagena.

Chicago Sun-Times

-

All that was needed to pull these elements together was a structure that would clearly define who the characters were, what they stood for and why we should care about them. Unfortunately, that is all that is missing.
The Mission (1986)
When a Spanish Jesuit goes into the South American wilderness to build a mission in the hope of converting the Indians of the region, a slave hunter is converted and joins his mission. When Spain sells the colony to Portugal, they are forced to defend all they have built against the Portugese aggressors.