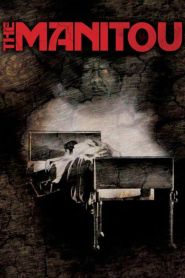 General Information
Glossary: T
Released Year: 1978
Runtime: 104 minutes
Genre: Horror
Directors: William Girdler
Casts: Felix Silla, Lurene Tuttle, Jeanette Nolan, Michael Laren, Paul Mantee, Burgess Meredith, Michael Ansara, Tony Curtis, Stella Stevens, Susan Strasberg, Jon Cedar, Ann Sothern, Hugh Corcoran, Ann Newman-Mantee, Jan Heininger, Cindy Stanford
IMDB: The Manitou (1978)
Sponsored Links
Ratings
User Rating:
IMDB Rating:
5.3
Reviews
The A.V. Club

-

While Manitou does have its slower sections, the climax is a thing of beauty to be enjoyed forever, with crummy special effects, bad lightning, a star field, an Evil One symbolized by a cataract, and Tony Curtis struggling to maintain his dignity.

Time Out

-

The special effects are superb, easy winners in an engaging inter-denominational free-for-all that blends Marvel Comics' Doctor Strange with Corman's The Raven. A successful excursion, spoiled only by the director's habit of plopping in postcard views of the Golden Gate Bridge instead of exteriors.

Variety

-

This bout between good and Satan includes some scares, camp and better than average credits.

TV Guide Magazine

-

This is silly stuff, and the gooey special effects make it ever sillier. Director Girdler--who died in a helicopter crash before the film was released--does a respectable job of making it all look rather slick and professional, but the big budget and all-star cast only add to the overall absurdity.

Chicago Sun-Times

-

El sleazo profoundo trasho zilch.
The Manitou (1978)
A psychic's girlfriend finds out that a lump on her back is a growing reincarnation of a 400 year-old demonic Native American spirit.