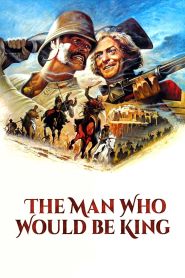 General Information
Glossary: T
Released Year: 1975
Runtime: 129 minutes
Genre: Adventure, Drama
Directors: John Huston
Casts: Christopher Plummer, Michael Caine, Philip Ettington, Sean Connery, Albert Moses, Doghmi Larbi, Saeed Jaffrey, Jack May, Karroom Ben Bouih, Mohammad Shamsi, Paul Antrim, Graham Acres, Shakira Caine
IMDB: The Man Who Would Be King (1975)
Sponsored Links
Ratings
User Rating:
IMDB Rating:
7.9
Reviews
Chicago Sun-Times

-

John Huston's The Man Who Would Be King is swashbuckling adventure, pure and simple, from the hand of a master. It's unabashed and thrilling and fun.

TV Guide Magazine

-

A delightful and memorable film.

Salon

-

The triumph of the movie isn't just Huston's realization of a longtime dream to bring the Kipling story to the screen but the way he both honors classical movie tradition and brings it forward into a new era.

The New York Times

-

The movie, which was shot in Morocco, looks lovely and remote (how did we ever once settle for those black-and-white Hollywood hills?) and has just enough romantic nonsense in it to enchant the child in each of us.

Time

-

A mellow, brassy, vigorous movie, rich in adventure and melancholy, The Man Who Would Be King represents the best work Huston has done in a decade.
The Man Who Would Be King (1975)
A robust adventure about two British adventurers who take over primitive Kafiristan as "godlike" rulers, meeting a tragic end through their desire for a native girl. Based on a short story by Rudyard Kipling.