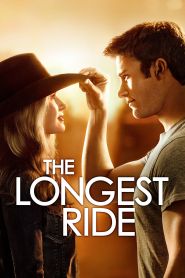 General Information
Glossary: T
Released Year: 2015
Runtime: 128 minutes
Genre: Drama, Romance
Directors: George Tillman, Jr.
Casts: Alan Alda, Scott Eastwood, Jack Huston, Oona Chaplin, Danny Vinson, Lolita Davidovich, Britt Robertson, Hunter Burke, Barry J. Ratcliffe, Amy Parrish, Melissa Benoist, Elea Oberon, Kate Forbes, Tiago Riani, Hayley Lovitt, Tracey Bonner, Jaret Sears, Evan Taylor Burns, Ben Jarvis Dumas
IMDB: The Longest Ride (2015)
Sponsored Links
Ratings
User Rating:
IMDB Rating:
7.1
Reviews
Village Voice

-

A good romance can make us endure an implausible plot as long as the leads have heat. Luke and Sophia's connection feels true. Who cares about the mechanics? By the time The Longest Ride runs right off a cliff, we're already strapped in to the passenger seat. Give in and enjoy the plunge.

TheWrap

-

Overall, The Longest Ride feels cloying and contrived; the only time it's unpredictable is when the plot takes a turn so utterly unbelievable that, admittedly, no one would see it coming.

The A.V. Club

-

Despite undermining its own better qualities, The Longest Ride still qualifies as one of the best Sparks films by virtue of not including any love-ghosts or destructive misinformation about how Alzheimer's works.

Hitfix

-

It would not surprise me if most reviews for this film are openly hostile. It is a wretched piece of writing, and an absurd final product. It almost seems pointless to pile on, though. The audience who loves Sparks is going to go see this film and they'll no doubt walk away satisfied.

The Dissolve

-

Sparks has to rely on exterior plot machinations because his characters lack any inner life.
The Longest Ride (2015)
The lives of a young couple intertwine with a much older man as he reflects back on a lost love while he's trapped in an automobile crash.