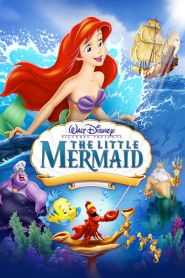 General Information
Glossary: T
Released Year: 1989
Runtime: 83 minutes
Genre: Animation, Family, Fantasy, Musical, Romance
Directors: Ron Clements, John Musker
Writers: Ron Clements, John Musker
Casts: Charlie Adler, Jodi Benson, Mickie McGowan, Sherry Lynn, Jack Angel, Frank Welker, Jennifer Darling, Steve Bulen, Edie McClurg, Christopher Daniel Barnes, Anne Lockhart, Samuel E. Wright, Pat Carroll, Kenneth Mars, Buddy Hackett, Jason Marin, Rene Auberjonois, Paddi Edwards, Ben Wright, Will Ryan, Nancy Cartwright, Hamilton Camp, Debbie Shapiro Gravitte, Robert Weil, Ed Gilbert, Susan Boyd, Philip L. Clarke, Trevor Allan Davies, Gail Farrell, Donny Gerrard, Gordon Mitchell, Willie J. Greene Jr., Linda Harmon, Walter S. Harrah, Phillip Ingram, Luana Jackman, William A. Kanady, Edie Lehmann Boddicker, Melissa MacKay, Guy Maeda, Lynn Dolin Mann, Arnold Markussen
IMDB: The Little Mermaid (1989)
Sponsored Links
Ratings
User Rating:
IMDB Rating:
7.6
Reviews
Chicago Sun-Times

-

Walt Disney's The Little Mermaid is a jolly and inventive animated fantasy - a movie that's so creative and so much fun it deserves comparison with the best Disney work of the past.

New York Daily News

-

Audiences of all ages are bound to fall in love with this bubbly, thoroughly enchanting fish story.

The New York Times

-

A marvel of skillful animation, witty songwriting and smart planning. It is designed to delight filmgoers of every conceivable stripe.

Time

-

For 82 minutes, The Little Mermaid reclaims the movie house as a dream palace and the big screen as a window into enchantment. Live-action filmmakers, see this and try to top it. Go on and try.

Los Angeles Times

-

Impudent, grandiose, a multilevel crowd-pleaser--almost returns the Disney animated features to their glory traditions of the '30s and '40s.
The Little Mermaid (1989)
This colorful adventure tells the story of an impetuous mermaid princess named Ariel who falls in love with the very human Prince Eric and puts everything on the line for the chance to be with him. Memorable songs and characters -- including the villainous sea witch Ursula.