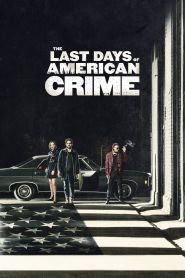 General Information
Glossary: T
Released Year: 2020
Runtime: 148 minutes
Genre: Action, Crime, Thriller
Directors: Olivier Megaton
Casts: Bruce Winant, Edgar Ramírez, Sharlto Copley, Robert Hobbs, Norman Anstey, Brandon Auret, Sean Cameron Michael, Tony Caprari, Terence Maynard, Michael Pitt, Stephen Jennings, Daniel Fox, Tanya van Graan, Patrick Bergin, Inge Beckmann, Vaughn Lucas, Kevin Otto, Jonathan Pienaar, Anna Brewster, James Richard Marshall, Michael Bierman, Tamer Burjaq, Lionel Newton, Kabelo Bouga Chalatsane, DeVille Vannik, Jay Anstey, Nathan Lynn, Leandie du Randt, Clayton Boyd, Neels Clasen, Kate Normington, Ian Bruce, Craig Urbani, De Klerk Oelofse, Kristen Raath, Shoko Yoshimura, Nhlakanipho Manqele, Candice Weber, Carel Nel, Alonso Grandio, Tiyler Kriel, Matt Newman, Garth Collins, Grant Ross, Ramey Short, Gerlu Van Der Merwe, Jonathan Boynton-Lee, Johann Vermaak, Sachi Fujii
IMDB: The Last Days of American Crime (2020)
Sponsored Links
Ratings
User Rating:
IMDB Rating:
3.5
Reviews
The A.V. Club

-

In its final hour, The Last Days Of American Crime finally gets down to the business of its big heist, revealing both the propulsive entertainment value the filmmakers have been inexplicably stalling and the thinness of the whole enterprise.

Empire

-

The Last Days Of American Crime takes a potentially entertaining, if silly, premise and drains it of any reason to get invested. You can just imagine a John Carpenter would have doubled the thrills in half the time.

IGN

-

Even without the content of 2020 making the film feel even more unpalatable, Netflix's The Last Days of American Crime is a distractingly dull dystopian thriller with drab (and/or extraneous) characters and a squandered premise.

The Hollywood Reporter

-

A poorly imagined crime flick that comes nowhere near justifying its 2.5-hour running time.

Movie Nation

-

The caper is routine, the twists don't — twist. "American Crime" just lies there, a corpse awaiting reanimation that never comes.
The Last Days of American Crime (2020)
In the not-too-distant future, as a final response to crime and terrorism, the U.S. government plans to broadcast a signal that will make it impossible for anyone to knowingly break the law.