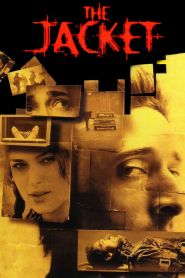 General Information
Glossary: T
Released Year: 2005
Runtime: 103 minutes
Genre: Drama, Mystery, Sci-Fi, Thriller
Directors: John Maybury
Casts: Daniel Craig, Adrien Brody, Kelly Lynch, Ian Porter, Nigel Whitmey, Laura Marano, Kris Kristofferson, Colin Stinton, Richard Durden, Angel Coulby, Angus MacInnes, Keira Knightley, Steven Mackintosh, Mackenzie Phillips, Jennifer Jason Leigh, Brad Renfro, Tara Summers, Brendan Coyle, Richard Dillane, Jason Lewis, Jonah Lotan, Tristan Gemmill
IMDB: The Jacket (2005)
Sponsored Links
Ratings
User Rating:
IMDB Rating:
7.1
Reviews
Dallas Observer

-

The first great film of 2005.

The Hollywood Reporter

-

Admittedly, The Jacket is not likely to be everyone's cup of tea, but filmmaker John Maybury has forged a mesmerizing mindblower.

Chicago Tribune

-

A gripping drama that will leave thoughtful cinemagoers wrestling with basic Big Questions.

Entertainment Weekly

-

Director John Maybury has a feel for shock rhythms, and he's skillful at keeping you guessing, but after a while you want your questions to cohere into compelling answers, and in The Jacket they don't, quite.

L.A. Weekly

-

The director's work is suitably unnerving, but leaves one feeling beaten senseless by reel two. When the hero's well-earned moment of clarity finally arrives, most will likely be too numbed out to care, despite the best efforts of Brody, an actor too vividly alive to be wasting his time playing dead.
The Jacket (2005)
A military veteran goes on a journey into the future, where he can foresee his death and is left with questions that could save his life and those he loves.