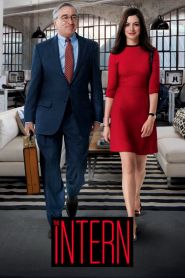 General Information
Glossary: T
Released Year: 2015
Runtime: 121 minutes
Genre: Comedy
Directors: Nancy Meyers
Writers: Nancy Meyers
Casts: Mary Kay Place, Anne Hathaway, Robert De Niro, Celia Weston, Steve Vinovich, Nat Wolff, Rene Russo, Erin Mackey, Linda Lavin, Adam Devine, Andrew Rannells, Drena De Niro, Anders Holm, Annie Funke, JoJo Kushner, Zack Pearlman, Jason Orley, Christina Scherer, C.J. Wilson, Christina Brucato, Wallis Currie-Wood, Molly Bernard, Paulina Singer, Christine Evangelista, Amelia Brain
IMDB: The Intern (2015) - IMDB
Sponsored Links
Ratings
User Rating:
IMDB Rating:
7.1
Reviews
Screen International

-

When the film gets more serious it produces some affecting moments between the two leads.

Entertainment Weekly

-

Hathaway's take on the underwritten Jules is refreshingly unshowy, but De Niro seems a little lost.

Hitfix

-

Meyers wants this to be all sort of amiable and charming and a big warm bath of a film, and it is.

TheWrap

-

The Internship delivers what it promises, no more and no less, and faulting it for not being a rougher, tougher, smarter film about how much we all seem to live our lives through our work today would be like yelling at a spoon for not being a knife.

The Playlist

-

In its portrait of a strong, independent woman learning to embrace her own ambition, desires, and future via the aid of an older male mentor-cum-father-figure, it colors its triumphant fantasy of female empowerment in a distinctly conservative, paternalistic shade.
The Intern (2015)
70-year-old widower Ben Whittaker has discovered that retirement isn't all it's cracked up to be. Seizing an opportunity to get back in the game, he becomes a senior intern at an online fashion site, founded and run by Jules Ostin.