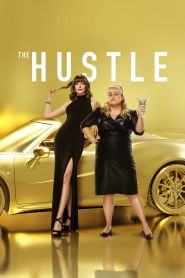 General Information
Glossary: T
Released Year: 2019
Runtime: 94 minutes
Genre: Comedy
Directors: Chris Addison
Writers: Stanley Shapiro
Casts: Raffaello Degruttola, Anne Hathaway, Dean Norris, Rebel Wilson, Francisco Labbe, Nicholas Woodeson, Rebekah Staton, Hannah Waddingham, Timothy Simons, Bruno Sevilla, Kumud Pant, Douggie McMeekin, Alphonso Austin, Rob Delaney, Martin Bishop, Emma Davies, Alex Sharp, Deano Bugatti, Ingrid Oliver, Deepak Anand, Meena Rayann, Joe Manjón, William Brand, Jocelyn Jee Esien, Casper Christensen, John Hales, Sarah-Stephanie
IMDB: The Hustle (2019)
Sponsored Links
Ratings
User Rating:
IMDB Rating:
5.3
Reviews
Movie Nation

-

Yes, this remake is old fashioned, and maybe the "mark" (Alex Sharp of "How to Talk to Girls at Parties") is a tad green and less interesting. But sometimes, it's fun watching two wildly different stars mix it up in sumptuous settings, and seemingly have a ball doing it.

Variety

-

The Hustle, fun as some of it is, is a tall fizzy drink in which the fizz never completely rises to the top of the glass.

IndieWire

-

When The Hustle succeeds — in fits and starts, and with occasional big laughs — it's wholly thanks to the dedication of Hathaway and Wilson, who throw themselves into thinly written roles (the film somehow required four screenwriters) that they spice up by bringing their A-game to material that's beneath them.

TheWrap

-

The new film is ripe for big laughs with Anne Hathaway and Rebel Wilson as, respectively, the snobby British bombshell with sticky fingers and the rough-around-the-edges though equally cunning con artist, but neither actress is given rich enough material to bring the film's most interesting ideas to the finish line.

The Hollywood Reporter

-

Though the 55 year-old plot's bones are sturdy and its new performers gifted, moviegoers hoping for a mercilessly funny post-Weinstein revenge fantasy (its poster declares: "They're giving dirty rotten men a run for their money") will walk away feeling conned.
The Hustle (2019)
Two female scam artists, one low rent and the other high class, compete to swindle a naïve tech prodigy out of his fortune. A remake of the 1988 comedy "Dirty Rotten Scoundrels."