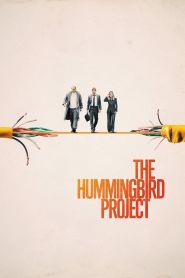 General Information
Glossary: T
Released Year: 2019
Runtime: 111 minutes
Genre: Drama, Thriller
Directors: Kim Nguyen
Writers: Kim Nguyen
Casts: Salma Hayek, Kwasi Songui, Alexander Skarsgård, Jesse Eisenberg, Jessica Greco, Conrad Pla, Sarah Goldberg, Ayisha Issa, Michael Mando, Mark Slacke, Johan Heldenbergh, Frank Schorpion, Julian Bailey
IMDB: The Hummingbird Project (2019)
Sponsored Links
Ratings
User Rating:
IMDB Rating:
6.3
Reviews
Film Threat

-

This hummingbird soars. It has that based-on-a-true-story feel, with all the urgency and verisimilitude of a real-life tale. A sad and visceral indictment of our society under the guise of a thriller, Kim Nguyen's rousing cinematic elegy will sneak up on you, like its titular moth.

Los Angeles Times

-

Despite esoteric subject matter, writer-director Kim Nguyen (War Witch) has crafted a smartly entertaining and unexpectedly human film with his financial thriller The Hummingbird Project.

The New York Times

-

As the geological, financial and personal barriers the cousins face grow increasingly absurd, the movie works up a satisfying sweat.

TheWrap

-

The Hummingbird Project is most of a great movie. Amiable performances and a deft pace combine with high-contrast storytelling, and the results are generally engaging. Sometimes funny, sometimes smart, always watchable. But perhaps the film's dedication to turning a clever tale into something profound was a miscalculation. Perhaps there were simply better ways to spend the time.

New York Magazine (Vulture)

-

Some of the supporting actors register, especially Michael Mando as the unpretentious but quick-witted chief engineer. But the only surprise is Skarsgård. He has played wife-beaters, vampires, rapists, and mute would-be detectives, but who'd have thought he'd make a credible nerd?
The Hummingbird Project (2019)
A pair of high-frequency traders go up against their old boss in an effort to make millions in a fiber-optic cable deal.