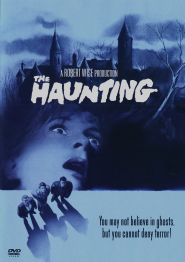 General Information
Glossary: T
Released Year: 1963
Runtime: 112 minutes
Genre: Horror
Directors: Robert Wise
Casts: Russ Tamblyn, Claire Bloom, Richard Johnson, Lois Maxwell, Rosalie Crutchley, Julie Harris, Fay Compton, Valentine Dyall, Diane Clare, Ronald Adam
IMDB: The Haunting (1963)
Sponsored Links
Ratings
User Rating:
IMDB Rating:
7.5
Reviews
Empire

-

It's one of the most highly-wrought (indeed, overwrought) films ever made, with art direction, editing, sound effects, weird camera angles and lighting orchestrated to fill every frame with hints of the unsettling.

The Guardian

-

From a potentially creaky, cliche-filled premise (a gaggle of stereotypes are invited to a spooky old house where all is not as it seems), director Robert Wise leads us on a brilliantly unsettling journey.

The A.V. Club

-

Sound effects, disorienting camera work, expert editing, and Humphrey Searle's discomfiting score all suggest, without showing, a horrible presence waiting in the wings. Though parts of The Haunting are talky, even that works in the film's favor, as Tamblyn's glib dismissals and Johnson's calm professorial tone are unable to clear up the mystery at its core. After all, the specters that can't be seen, classified, or otherwise contained are the scariest of all.

Time Out London

-

What makes the film so effective is not so much the slightly sinister characterisation of the generally neurotic group, but the fact that Wise makes the house itself the central character, a beautifully designed and highly atmospheric entity which, despite the often annoyingly angled camerawork, becomes genuinely frightening.

The New Yorker

-

An elegantly sinister scare movie, literate and expensive, with those two fine actresses Claire Bloom and Julie Harris.
The Haunting (1963)
Dr. Markway, doing research to prove the existence of ghosts, investigates Hill House, a large, eerie mansion with a lurid history of violent death and insanity.