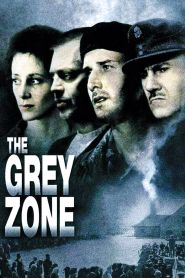 General Information
Glossary: T
Released Year: 2001
Runtime: 108 minutes
Genre: Drama, War
Directors: Tim Blake Nelson
Writers: Tim Blake Nelson
Casts: Harvey Keitel, Steve Buscemi, Natasha Lyonne, Michael Stuhlbarg, Mira Sorvino, David Arquette, Daniel Benzali
IMDB: The Grey Zone (2001)
Sponsored Links
Ratings
User Rating:
IMDB Rating:
7.1
Reviews
TV Guide Magazine

-

Extremely difficult but worthy film.

USA Today

-

Grimly claustrophobic movies can make viewers put up a shield, yet Tim Blake Nelson (who directed O) invests this unusual Holocaust drama with dramatic intensity that in no way cheapens its subject matter.

The Globe and Mail (Toronto)

-

When the larger question cannot be answered, the lesser one -- "What would you have done?" -- seems beside the point.

Washington Post

-

Jagged, unrelenting, claustrophobically intimate.

Austin Chronicle

-

The movie's storyline is not always perfectly clear, seemingly falling into the same murky "grey zone" as everything else.
The Grey Zone (2001)
A Nazi doctor, along with the Sonderkomando Jews – who are forced to work in the crematoria of Auschwitz against their fellow-Jews – find themselves in a moral grey zone.