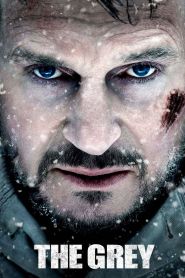 General Information
Glossary: T
Released Year: 2012
Runtime: 117 minutes
Genre: Action, Adventure, Drama, Thriller
Directors: Joe Carnahan
Casts: James Badge Dale, Frank Grillo, Liam Neeson, Nonso Anozie, Dallas Roberts, Jacob Blair, Ben Hernandez Bray, Dermot Mulroney, Joe Anderson, Larissa Stadnichuk, James Bitonti, Jonathan Bitonti, Anne Openshaw, Peter Girges, Ella Kosor, Lani Gelera
IMDB: The Grey (2011)
Sponsored Links
Ratings
User Rating:
IMDB Rating:
6.8
Reviews
Slant Magazine

-

There's little in Joe Carnahan's previous films, marked by their frenetic, fanboy-friendly overindulgences, to predict the cold blast of The Grey, an old-fashioned, neatly arrayed survival story that almost reads like a reaction to the excesses of his past work.

Observer

-

The Grey avoids smug clichés, takes you to places you least expect and settles for no comfortable solutions, while it explores the dark shadows of the male psyche and finds more emotional fragility there than you find in the usual phony macho myths from Hollywood.

The Hollywood Reporter

-

The Grey, a man's-man of a genre picture that will satisfy the action audience while reminding more discerning viewers what they saw in director Joe Carnahan's decade-old breakthrough, "Narc."

Arizona Republic

-

Don't be mistaken -- this isn't an artsy thriller. It is still, at heart, men vs. wolves, and the wolves definitely have the home-court advantage.

Time Out

-

Moment to moment, the film is gripping and beautiful to behold (props to cinematographer Masanobu Takayanagi for the mesmerizingly grainy, achromatic visuals). But caveat emptor to those expecting a hinterlands gloss on "Taken" with rapacious curs in place of nefarious Albanians.
The Grey (2011)
An oil drilling team struggles to survive after a plane crash strands them in the wilds of Alaska. Hunting them is a pack of wolves that sees them as intruders.