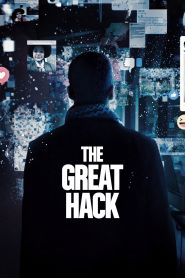 General Information
Glossary: T
Released Year: 2019
Runtime: 114 minutes
Genre: Documentary
Directors: Karim Amer, Jehane Noujaim
Writers: Karim Amer, Erin Barnett, Pedro Kos
Casts: Donald Trump, Hillary Clinton, Stephen K. Bannon, Brittany Kaiser, David Carroll, Paul-Olivier Dehaye, Ravi Naik, Julian Wheatland, Carole Cadwalladr, Christopher Wiley, Paul Hilder, Emma Graham-Harrison, Gill Phillips, Sarah Donaldson, Roger McNamee, Alexander Nix, Mark Zuckerberg, Ted Cruz, Nigel Farage
IMDB: The Great Hack (2019)
Sponsored Links
Ratings
User Rating:
IMDB Rating:
7.0
Reviews
The Guardian

-

Anyone who says voting is a waste of time needs to watch this film.

The New York Times

-

If the paranoia level could probably withstand a slight reduction, much of the movie feels utterly credible.

Time Out

-

While it lacks the emotional intensity of the duo's Oscar-nominated The Square—a rousing 2013 look at Egypt's Arab Spring—The Great Hack still feels of a piece, inviting viewers to contemplate the power and irreversibility of their online footprint.

The Hollywood Reporter

-

The Great Hack uses a decent rehash of the Cambridge Analytica scandal as the starting point for an interesting two-pronged character study, an instigation for provocative ideas about data crime and what is ultimately a really, really, really conflicted look at when it's terrifying having corporations learning things about our online habits and when it's cool.

Rolling Stone

-

You know you're in the hands of professionals here — Noujaim was a director or co-director on such solid nonfiction works as "Startup.com" (2001), "Control Room" (2004), and "The Square" (2013) — even if the proceedings sometimes come off like Muckraking Moviemaking 101.
The Great Hack (2019)
Data—arguably the world's most valuable asset—is being weaponized to wage cultural and political wars. The dark world of data exploitation is uncovered through the unpredictable, personal journeys of players on different sides of the explosive Cambridge Analytica/Facebook data story.