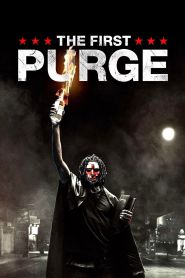 General Information
Glossary: T
Released Year: 2018
Runtime: 97 minutes
Genre: Action, Horror, Sci-Fi, Thriller
Directors: Gerard McMurray
Writers: James DeMonaco
Casts: Steve Harris, Marisa Tomei, Ian Blackman, Deidre Goodwin, Melonie Diaz, Patch Darragh, Mo McRae, Jermel Howard, Derek Basco, Moisés Acevedo, Chyna Layne, Logan Crawford, Christian Robinson, Levy Tran, Geoff Schuppert, Jane Fergus, Lauren Vélez, Mitchell Edwards, Olivia Frances Williams, Alan Pietruszewski, Maria Rivera, Gabriel Lopez, Robert Bozek, Y'lan Noel, Lex Scott Davis, Joivan Wade, Mugga, Kristen Solis, Siya, Rotimi Paul, D.K. Bowser, Naszir Nance, Peter Johnson, Cloé Xhauflaire, John P. McGinty, Qurrat Ann Kadwani, Claudine Ewing, Susanna Guzman, Matthew Mesler, Nancy Lemenager, Neal Gupta, Ricky Needham, Anthony Lee Medina, Mike Cabellon, Nathyia Jackson, Rolando Martín Gómez, Paul Iatomasi, Kevin Carrigan, Katina Forte, Van Jones, Aaron Moss, Boris Khaykin, Desiigner, Patrick Byas, Shonica Gooden, Shaun Woodland, David Breda, Jessica Bell, Korey Bastian, Jason John Beebe
IMDB: The First Purge (2018)
Sponsored Links
Ratings
User Rating:
IMDB Rating:
5.1
Reviews
TheWrap

-

The First Purge completely earns its action-packed and rousing finale, but getting there certainly takes a while.

IndieWire

-

The First Purge is another absurd B-movie, uneven and ludicrous across the board, but altogether transfixing for the way it funnels Trump-era terror into an empowering crowdpleaser.

Consequence of Sound

-

The First Purge is every bit as nakedly, hysterically symbolic as its predecessors. But if there's one thing that the current political climate is teaching us, it's that a subtle touch isn't always the solution.

Movie Nation

-

The most politically potent sci-fi/horror film series since the early years of George A. Romero gets a bloody, visceral and yes, emotional prequel with The First Purge, the movie that tells how we got from "here" to "there."

ReelViews

-

Boiling off the divisive political subtext and its associated sociological aspects, what we're left with is an old-fashioned exploitation thriller. Seen in that context, The First Purge isn't half-bad. It's competently made, delivers its share of thrills and edge-of-the-seat moments, and gives the audience an opportunity to stand up and cheer.
The First Purge (2018)
To push the crime rate below one percent for the rest of the year, the New Founding Fathers of America test a sociological theory that vents aggression for one night in one isolated community. But when the violence of oppressors meets the rage of the others, the contagion will explode from the trial-city borders and spread across the nation.